Two Asia-Pacific airlines have this month operated domestic sightseeing flights to meet pent-up flying demand as Covid-19 limits air travel, but how much potential does this market offer in the long run?
DINE AND FLY
Royal Brunei Airlines' first-ever scenic flight took off on 16 August, departing from Brunei International airport.
"The product is a full-service 85min flight with a live commentary by our pilot and crew around the coast and borders of Brunei and other parts of Borneo inclusive with [brunch] served on board," says the carrier.
The flight, BI45, was operated with an Airbus A320neo wearing a Brunei Tourism livery, and provided a "Dine & Fly" experience to 99 passengers. There were three pilots and six crew aboard.
A promotional poster indicates that flight tickets were priced at BN149 ($110) and the airline said in a 16 August statement: "The flight was sold out during an exclusive presale in 48h, and now we have a huge interest list from the public."
ALTERNATIVE TRAVEL
Eva Air, meanwhile, offered passengers an "alternative travel option" when it operated scenic flights from Taipei Taoyuan on 8 and 15 August.
An Airbus A330-300 fitted with 279 seats in economy class and 30 in business was used for the flights. Economy-class tickets were priced at NT$5,288 ($180) while an upgrade to business class was available for an additional NT$1,000.
Meals designed by a three-Michelin-starred chef were served on board the 2h 45min flight, BR5288, and the itinerary included a view of Japan's Ryukyu Islands. But these pale in comparison to the cherry on the cake – BR5288 is flown on the airline's extremely popular Hello Kitty-themed aircraft.
Both flights were "at full capacity", Eva Air says in updates on its website, and Chia-Ming Sun, the carrier's president, says: "[Flight BR5288] not only satisfies local travellers' wish to go abroad, but also allows Eva Air to feel the joy of [operating a flight at full capacity].
"We hope that the [Covid-19 pandemic] will end as soon as possible and normal operations will resume, so that all passengers can once again enjoy the fun of going abroad."
OPERATIONAL ISSUES
Cruising over local attractions may seem like a frivolous use of aircraft – modern airlines seek to maximise passenger capacity and range – but scenic flights are not without operational challenges.
It may be a domestic trip from passengers' perspective; however, such flightpaths could extend into the airspace of neighbouring countries so some measure of co-ordination is required.
The much lower altitudes – 20,000-25,000ft in the case of Eva Air – are an important point of consideration in the new flightplan submitted to authorities.
Even within the domestic airspace, lower flying altitudes may raise sensitivities with the military. Especially in countries of smaller land mass, busy airspace could require rescheduling of military training.
Take, for example, Singapore, which has an area of just over 700sq km (270sq miles), versus Brunei's 5,000sq km and Taiwan's 36,000sq km. Scenic flights within Singaporean airspace are highly unlikely.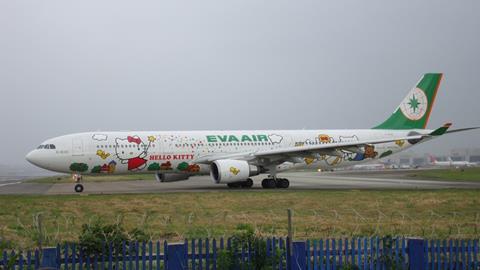 Notwithstanding the density of high-rise buildings in the city-state, the limits on altitude within its airspace are very low. Recent conflict over airspace management with Malaysia, with whom Singapore shares a land border, is a further impediment.
Royal Brunei tells Cirium it worked closely with its home nation's civil aviation authority and Malaysian airport authorities, which approved the lower altitudes for BI45. The aircraft overflew certain restricted zones but this was part of the approved flightplan.
Cirium has contacted the civil aviation authorities of Brunei and Malaysia for comment.
Passengers on board BI45 had to bring their passports, for security and identification purposes, to align with the requirements of Brunei's immigration and airport authorities.
Eva Air tells Cirium that it adhered to regulations for BR5288's flightplan and both flights took an identical route, flying over the west of Japan's Ryukyu Islands and turning around to cruise within Taiwan's airspace.
On its website, Eva Air states that BR5288 was operated with the blessing of Taiwan's transport ministry, Central Epidemic Command Center, Aviation Police Bureau, National Immigration Agency and Customs Administration.
A crucial necessity – and one largely beyond operators' control – is that scenic flights require high-visibility conditions to be successful and are therefore subject to prevailing weather conditions.
COMMERCIAL CONSIDERATIONS
Among Asia-Pacific countries, Brunei and Taiwan have some of the lowest Covid-19 case counts within their borders.
This could be a factor in the success of Royal Brunei's and Eva Air's scenic flights, though it appears the relevant authorities still keep a close watch on the situation.
Royal Brunei states in a fact sheet: "Following discussions with [Brunei's] Ministry of Health, protective masks will not be mandatory for this domestic sightseeing flight. However, we encourage any guests to wear their own mask should they wish."
The airline tells Cirium that most passengers on board BI45 were Brunei citizens and residents. They are considered low-risk given the country's low case-count, but Royal Brunei still adheres to guidelines and directives of civil aviation regulators and the health ministry.
Seating arrangements on board BI45 were also cleared by the health ministry, says the airline. Couples and family members of the same household under one booking sat together, while solo travellers had the row to themselves. Groups of three adults were seated across two rows.
Cirium fleets data show that Royal Brunei's A320neos are configured with 138 economy-class seats in a 3-3 configuration, and 12 business-class seats arranged 2-2. Economy class seats in Eva Air's A330-300s are arranged in a 2-4-2 configuration, and business-class seats, 2-2-2.
Images on Eva Air's website suggest that passengers and crew wore masks, and the airline tells Cirium: "Eva Air enforced the guidelines and precautionary measures to prevent the spread of Covid-19 and to ensure the passengers could fly with confidence."
FUTURE DEVELOPMENTS
Despite the overwhelming response, both airlines say they are not rushing to launch more scenic flights.
Eva Air tells Cirium it will evaluate market demand and passenger feedback "to determine the possibility of planning the next flight".
It says: "Two successful Hello Kitty[-themed] flights had flown on August 8 and August 15, Eva Air saw the strong desire of 'flying to travel abroad'. Therefore, Eva Air will plan additional flights on popular holidays to fulfil demand during the lockdown."
On the other hand, Royal Brunei has invited customers to register their interest, stating if they prefer to fly on Friday or Sunday. Four hundred customers have indicated their interest, according to the carrier.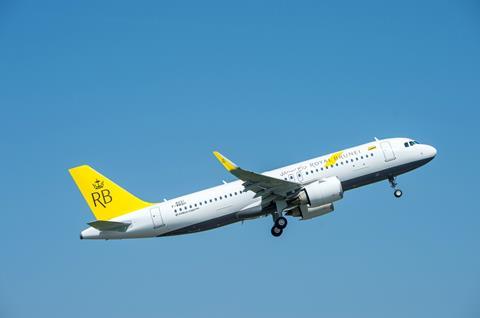 "We have a school term break coming up in September and this can be an opportunity for families to come on board and support the national carrier," the Southeast Asian airline tells Cirium.
While the first BI45 flight was not eligible for mileage accrual given that the distance is minimal, Royal Brunei says it could revisit this point should there be increased demand.
Scenic flights could be a way to grow domestic tourism for as long as Covid-19 curtails international travel.
"We have to be creative [in] providing such product offerings and, yes, we did think of themed itineraries and to partner with local businesses which can be in the pipeline," says Royal Brunei.
"Brunei has a small community [and] at the end of the day, we have to help each other out during this difficult time and in order to sustain our business. We received [feedback] from the public that they really missed travelling and this is one opportunity to [address] it."
Analysis by Simin Ngai of Cirium.
This story has been updated to include a response from Eva Air.