Canadian start-up Lynx Airlines has begun selling tickets and preparing for an April launch.
The Calgary-headquartered ultra-low-cost carrier says on 19 January that it will initially serve five Canadian cities: Calgary, Vancouver, Kelowna, Winnipeg and Toronto, with fares beginning at C$39 ($31) one-way.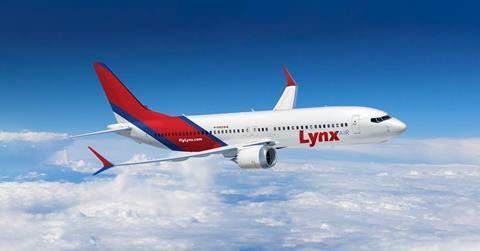 A test booking showed that Lynx Air flights will begin on 7 April with a first daily out-and-back connection between Calgary and Vancouver. Calgary-to-Toronto flights will commence on 11 April, four times weekly at first and expanding to daily at the end of the month, and further routes will launch successively in the course of the following weeks.
The airline did not immediately respond to requests for further information.
Lynx was formerly called Enerjet, which offered charter flights servicing Canada's oil and gas industry. Last November, the company said it had changed its name and appointed a new management team which is looking to replicate in Canada the low-cost model that "revolutionized air travel across Europe and the United States, offering low fares, flexibility and choice".
Carrier chief executive Merren McArthur previously spent almost 12 years at Virgin Australia in various management roles, and as chief executive of low-cost subsidiary Tigerair Australia. She left the group in November 2019 when Tigerair was integrated into Virgin Australia.
She is joined in top management by chief commercial officer Vijay Bathija, who came from Etihad Airways and also spent almost a decade at Air Canada subsidiary Air Canada Rouge earlier in his career. Lynx's chief operations officer Tim Morgan founded Enerjet in 2007, and was also a co-founder of WestJet.
Lynx will launch flight operations with three new Boeing 737 Max 8s, configured in a single class, with 189 seats. Last November the carrier said it aims to grow to 46 jets in the next seven years.
The airline is one of two Canadian low-cost-carriers that plans to begin flight operations in the first half of 2022. The other is Canada Jetlines, which took delivery of its first aircraft, an 11-year-old Airbus A320, in December.
The Vancouver-based company has gone through numerous top management changes since coming onto the scene in 2015. Now, however, it looks set to launch operations in the coming months.
Jetlines' growth plan outlines a strategy which includes flights from Toronto to Canadian destinations, Mexico, the USA and the Caribbean in 2022, then expanding to offer direct flights to the Caribbean from Atlantic Canada in 2023, and entering the western Canada leisure market in 2024. The carrier has said it aims to expand to 15 aircraft by 2025.