Cathay Pacific enjoyed sharply higher cargo yields during the first six months of 2021, although crew quarantine restrictions and a lack of bellyhold capacity capped performance.
For the first half of the airline's 2021 financial year, Cathay's cargo yield shot up 24.4% to HK$3.37, according to the airline's results statement.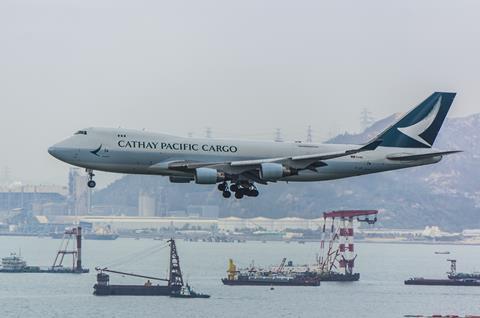 Given the collapse in passenger traffic owing to Covid-19 travel restrictions, cargo services accounted for 80% of Cathay Group revenues for the six months, although group cargo revenue of HK$12.7 billion was flat year on year.
The airline's Air Hong Kong cargo unit generated a net profit of HK$374 million for the first half, marginally higher than HK$363 million for the first six months of 2020.
Given a lack of bellyhold capacity on passenger aircraft – Cathay's ASKs fell 85% year on year - ATKs fell 48.2% from the first six months of 2020, when the coronavirus pandemic was spreading from the Chinese city of Wuhan.
Cathay chairman Patrick Healy implies that Cathay's cargo performance would have been better if not for "strict quarantine requirements for Hong Kong-based aircrew. The new measures affected our ability to service our passenger and cargo markets. We made significant reductions to our passenger and cargo schedules and our monthly cash burn increased."
The quarantine for crew required crew to volunteer for a "closed loop" rotation of 21 days, during which crew remained in hotels when not flying. This was followed by 14 days of hotel quarantine.
The impact of the quarantines was felt most in April, when Cathay's freighter and cargo-only passenger flights were lower than at any time since the start of the pandemic. Some requirements were lifted, however, helping things improve from May onwards.
As of 30 June, Cathay had a total of 34 dedicated freighters, comprising six Boeing 747-400ERFs and 14 747-8Fs.
Cargo subsidiary Air Hong Kong operates nine A300-600Fs, two A330-200Fs, and three A330-300Fs.