The AirAsia airline units of Malaysia's Capital A generated significantly stronger traffic in the second quarter to 30 June.
In a quarterly update, Capital A highlighted sharply higher load factors and passengers carried across AirAsia's Malaysian, Indonesian, Philippines, and Thai units.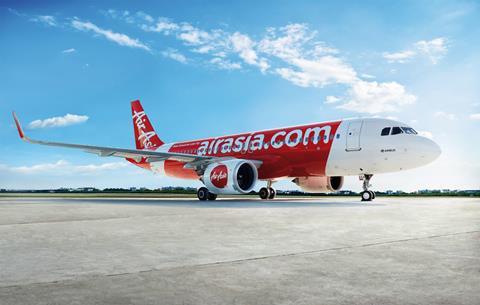 The overall number of passengers carried jumped over seven-fold from a year earlier with the lifting of restrictions related to the coronavirus pandemic, with load factors hitting 84%. This, says Capital A, signals that the "air travel revival is well underway."
AirAsia Malaysia carried 3.8 million passengers in the three months to 30 June, a massive improvement from just 280,000 passengers a year earlier. Capacity rose nearly ten-fold and load factors climbed 20 percentage points to 84%.
ASKs and RPKs soared during the quarter, with the unit operating 45 Airbus A320 family aircraft, up from five a year earlier.
AirAsia Indonesia also saw an improvement, with passengers carried more than doubling to 715,000, with load factors climbing 10 percentage points to 77%. ASKs and RPKs more than doubled.
As for AirAsia Philippines, passengers carried rose nearly six-fold to 995,000, with load factors jumping 15 percentage points to 93%. AirAsia Thailand saw passengers carried more than double to 1.7 million, with load factors climbing 14 percentage points to 75%.
Capital A adds that 159 international routes were relaunched in the quarter.
Formerly AirAsia Group, Capital A comprises the AirAsia family of airlines, the Teleport logistics unit, as well as the 'airasia Super App' and payment service BigPay.