The aviation business of Capital A – formerly AirAsia Group – has seen revenues nearly quadruple year on year in the first quarter of its 2022 financial year.
For the three months ended 31 March, Air Asia Aviation Group (AAAGL) generated MYR601 million, up from MYR185 million a year earlier, according to Capital A's quarterly results.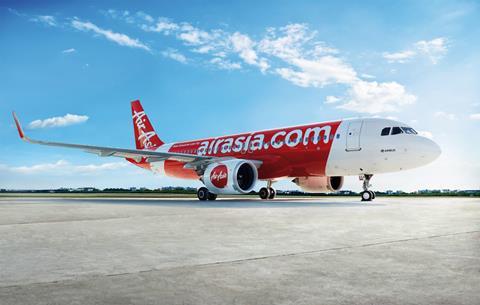 Aviation accounted for 75% of Capital A's overall revenue. Capital A's logistics business generated revenue of MYR147 million in the quarter, while the digital business generated just MRY63 million.
Capital A saw an EBITDA loss of MYR309 million in the quarter, widening from an EBITDA loss of MYR202 million a year earlier.
Capital A's net loss widened to MYR911 million from MYR794 million a year earlier.
Specific to the aviation business, aircraft fuel expenses surged five-fold year on year to MYR348 million in the first quarter.
"The AirAsia Aviation Group posted an encouraging [quarter on quarter] trend, says AAGL chief executive Bo Lingam.
"In 1Q2022, the aviation group posted a healthy load factor of 76%. Significantly, the increase of capacity and additional frequency of domestic flights supported the strong resurgence in air travel demand. In 1Q2022, demand spiked during the festive season and boosted the overall group capacity to 4.9 million available passenger seats with 3.7 million passengers flown."
ASKs more than tripled and RPKs nearly quadrupled year on year. As of 31 March 2022, AAAGL operated 152 aircraft, up from 149 a year earlier.
Lingam adds that flights in the first quarter more than tripled from a year earlier with the lifting of travel restrictions domestically and internationally, and that load factors were good across its affiliates - AirAsia Malaysia, AirAsia Indonesia, AirAsia Philippines, and AirAsia Thailand. In its results statement, Capital A indicates that load factors across AAAGL rose nine percentage points to 76%.
Moreover, vaccination campaigns have seen the coronavirus pandemic move to the endemic stage, allowing a relaxation of travel restrictions.
"The aviation group outlook remains positive as we firmly believe there will continue to be a V-shaped travel rebound and improved passenger traffic continuing throughout the remainder of the year and beyond," says Lingam.
"We are confident in the ongoing revival of air travel in the coming quarters and with the support of ASEAN countries which are already gradually reopening international borders, that we will be flying to pre-Covid capacity on many of our core domestic and international routes by the end of this year. The aviation group flew 60% of pre-Covid domestic flights in 1Q2022 and we aimed to operate 93% of its total pre-covid domestic capacity including AirAsia Thailand by the end of the year."
Separately, Capital A said that it has set up a 'joint working group' with lessor Avalon to study the feasibility of urban air mobility in Southeast Asia. This follows a memorandum of understanding between the two companies signed at the Singapore Airshow in February, which could see AAAGL lease at least 100 Vertical Aerospace VX4 electric vertical take-off and landing (eVTOL) aircraft from the lessor.
The feasability study is expected to conclude by February 2023.