Capital A's Teleport logistics unit has raised $50 million to help finance new cargo aircraft, and to build out its cargo infrastructure.
The company – formerly AirAsia Group – says the funds came from "large institutional credit investors" and will help boost its delivery capabilities in Southeast Asia.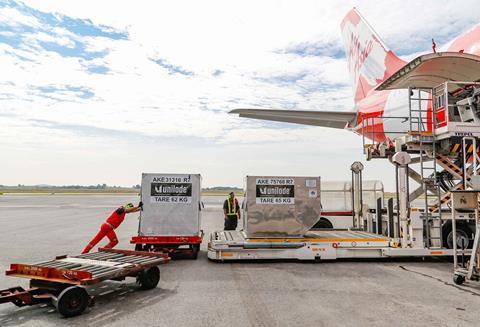 It will also use the funds to build hubs in Indonesia, Malaysia, and the Philippines.
In September, Teleport said it would add three A321 freighters as part of a strategy to boost capacity to the Chinese and Indian markets.
The sister company to low-cost group AirAsia Aviation said the three freighters will be leased from BBAM, with the first example to be delivered in the first quarter of 2023.
"Key to Teleport's leadership in the next three years is the extension of our network coverage by air with the induction of A321F freighters starting in 1Q2023," says Pete Chareonwongsak, chief executive of Teleport.
"We aim to easily connect manufacturers, exporters and e-commerce directly to any Southeast Asian market."
Teleport has three primary focus areas in Southeast Asia: global freight forwarders looking for a regional network; e-commerce market places, and consumers seeking next-day parcel delivery.