A strategy of "prioritising cargo over passenger services" during the coronavirus pandemic has helped China Airlines stay in the black, despite a sharp decline in passenger travel demand.
The Taiwanese carrier, which recently reported an operating profit of NT$2.18 billion ($76.3 million) for the year ended 31 December 2020, disclosed an 87% year-on-year increase in cargo revenue.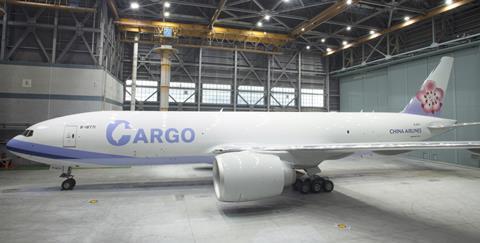 This compares to a 77% plunge in passenger revenue for the year, amid ongoing travel restrictions and border closures. China Airlines disclosed on 18 March that its full-year revenue shrank about 32% year on year to NT$115 billion.
The carrier says it will continue to tap into the "steady demand" from air cargo services, including expanding its cargo network. This year, the carrier will add increased services to undisclosed points in Europe. It will also add stopovers in the Indian cities of Delhi and Mumbai to "tap into India's market potential", as well as expand its Mainland China freighter network with flights to Ningbo and Tianjin.
The carrier now operates a fleet of 21 freighters: three Boeing 777Fs, as well as 18 747-400Fs.
China Airlines chairman Su-Chien Hsieh says despite the "very difficult business conditions" faced, the carrier remained "above the water".
"Thanks to a strategy of prioritising cargo over passenger services, China Airlines was able to stay profitable and achieve a new milestone," he adds.
Separately, the carrier discloses that its first Airbus A321neo, which it ordered during the 2019 Paris Air Show, is on track to be delivered this year.
The carrier had disclosed in 2019 that it would be taking delivery of the first example from 2021, with deliveries through 2022.
The A321neos, powered by Pratt & Whitney PW1100G geared turbofans, are likely to replace its existing fleet of 737-800s on regional operations.