Strong cargo demand propelled Korean Air to an operating profit of W125 billion ($110 million) in its first quarter results, compared with an operating loss of W65.7 billion a year earlier.
Revenue for the three months ended 31 March fell 24% to W1.75 trillion, owing to the drop in passenger demand during the coronavirus pandemic.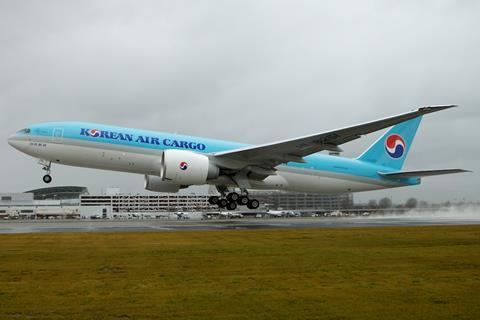 The airline was also able to narrow its net loss to W28.8 billion, compared to a net loss of W692 million a year earlier.
Korean notes that cargo sales in the first quarter "more than doubled" year on year to W1.35 trillion.
"Despite decreased passenger flight belly capacity because of the pandemic, Korean Air maximised cargo operations by fully utilising its 23 freighters, operating cargo-only passenger flights and converting passenger jets into freighters," it says. "Also, as vaccination progresses, expectations on global economic recovery grow, which helps increase air cargo demand."
While Korean expects strong cargo demand to continue in the second quarter, it warns that international travel restrictions will continue to hamper passenger demand. Still, the airline continues to operate repatriation flights on a chartered basis, in addition to "flights to nowhere."
Korean adds that it has taken steps to safeguard its financial stability, notably the issue of W3.3 trillion worth of new stock in March, as well as additional loans.
More recently, it raised W350 billion from three corporate bond issues on 15 April.