Korean Air saw its 2021 operating profit jump six-fold year on year to W1.5 trillion ($1.2 billion) on the back of its strong cargo business.
Annual revenues grew 18% year on year to W8.8 trillion, as it swung to a full-year net profit of W639 billion, says the carrier.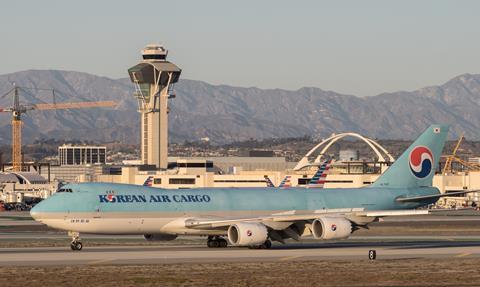 The carrier also had a strong fourth quarter to 31 December, with operating profits jumping five-fold to W704 billion, with quarterly revenue rising 52% to W2.8 trillion. Fourth quarter net profits, however, declined 44% to W404 billion.
Korean notes that both its annual and quarterly operating profit were the highest in the company's history. The earnings cap a year of strong returns at Korean on the back of its cargo division.
It notes that the fourth quarter saw record cargo revenues of W2.2 trillion.
"Peak demand during the year-end holiday season and constraints in [bellyhold space aboard passenger jets] due to reduced operations have led to a noticeable increase in fares," says Korean.
"The airline was able to respond proactively to the global supply chain disruptions and operational restrictions caused by the Omicron variant, and provide clients with reliable services."
Korean also saw some signs of life in its passenger business, where fourth quarter revenue increased 14% to W380 billion, mainly do the extension of quarantine free travel to destinations such as Guam, Hawaii, and Singapore.
Korean says that the Omicron variant of Covid-19 is likely to continue pressing supply chains, and that it will "actively respond to market changes by operating charter and cargo-only passenger flights."
It foresees border regulations and the situation with Covid-19 variants as being the prime driver of passenger demand recovery.
"The airline plans to continue to flexibly operate routes to respond to market trends," it says.