Cathay Pacific will defer delivery of its Airbus aircraft by up to two years, and is in "advanced negotiations" with Boeing about delaying the delivery of the 777-9 widebody, in a bid to "produce cash savings" in the short to medium term.
The deferrals on Airbus aircraft, announced in a rights issue prospectus, will affect A350-900s and A350-1000s, as well as sister carrier Cathay Dragon's A321neos.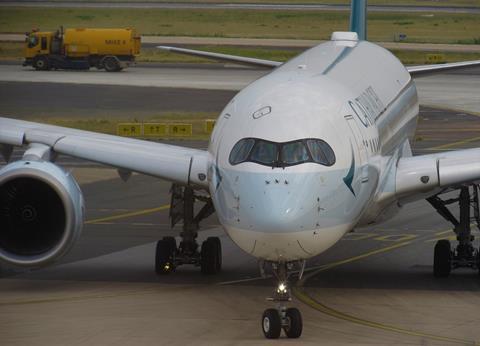 The A350s, which were expected to be delivered between 2020 and 2021, will be delayed to 2020-2023, while the A321neos, which sister carrier Cathay Dragon and low-cost arm HK Express have on order, will be deferred from 2020-2023 to 2020-2025.
Cathay has 12 A350s on order, comprising four -900s, and eight -1000s. It also has 21 Boeing 777-9s on order. Cathay Dragon and HK Express each have 16 A321neos on order.
Cathay stated in a November investor presentation that these aircraft were expected to enter the respective fleets by 2024.
The beleaguered carrier, which recently warned of a HK$9.9 billion ($1.28 billion) net loss for the six months ended 30 June, says that its monthly cash loss has reduced slightly after it took measures to cut costs and conserve cash.
From an initial cash loss of HK$2.5 to 3 billion a month disclosed in June, the carrier states that it has now gone down to HK$1.5 billion a month, and is expected to remain at that level for the foreseeable future.
Cathay, Cathay Dragon and HK Express have been hard hit by the collapse in travel demand from the coronavirus outbreak. HK Express remains grounded, while Cathay and Cathay Dragon carried only 27,106 passengers – a 99.1% decline year on year.
Cathay's shareholders on 13 July approved a HK$39 billion recapitalisation plan, led by the Hong Kong government. Cathay first announced the plan, which comprises three tranches, in June.
The carrier said that the recapitalisation plan was drawn up after exploring "available options", and adds that it was necessary "to ensure it has sufficient liquidity to weather this current crisis". Cathay's management will also re-evaluate its business model in the longer term, and will, by the end of the year, make recommendations to its board on the "optimum size and shape" of the group.