Cathay Pacific Group anticipates a "significantly higher" loss for the six months ending 31 December, as passenger travel demand continues to remain in the doldrums.
Releasing its traffic results for November, Cathay says that the average capacity for the second half of the year is around 8.4% of pre-pandemic levels, well below the average of 34.3% for the first half of the year.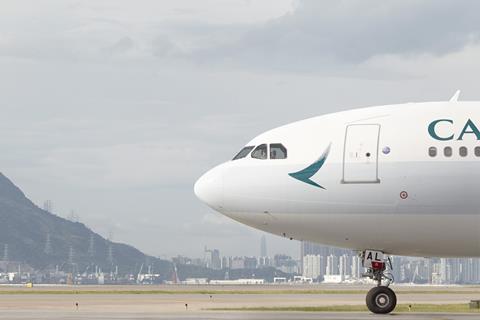 "This, together with the additional restructuring and impairment costs announced in October, and further aircraft impairment at year-end, is expected to result in the second-half losses being significantly higher than the first-half losses reported in our interim accounts," says Cathay group customer and commercial chief Ronald Lam.
The group in October announced the closure of its Cathay Dragon regional airline unit, along with the slashing of 5,900 jobs across the group. It made a staggering loss of HK$8.7 billion ($1.12 billion) at an operating level for the six months ended 30 June, thanks to the coronavirus outbreak, which has torpedoed travel demand.
In its latest traffic results, Lam notes that long-haul demand "continues to weaken", with Cathay relying more on regional traffic in the near term. It will operate at around 9% of pre-pandemic capacity in December, traditionally a strong-performing month for the Oneworld carrier.
In January 2021, Cathay anticipates operating just over 10% capacity, adds Lam.
Cathay carried around 37,800 passengers in November, a slight improvement from October, but more than 98% lower year on year. On a daily basis, the airline flew just over 1,200 passengers.
RPKs for the month plunged 98% year on year, while ASKs fell 91%. Cathay reported a 61.5 percentage point drop in its passenger load factor, to 18.5%.
Says Lam: "Regionally, certain markets performed slightly better. The uptick in traffic to and from Indonesia that we had been seeing in October continued into November. Demand from the Chinese mainland for flights to Japan was also promising with it being particularly noticeable on our newly resumed Osaka flights."
On the long-haul front, Cathay notes weaker traffic on its European network, owing to a resurgence in cases across the continent. However, there was a slight uptick in traffic to Hong Kong from Canada and Australia, the airline states.