Cathay Pacific Group expects to report a steeper net loss for the 2022 financial year on the back of "significant losses" from its associates, but remains "encouraged" about its recovery in the new year.
The Hong Kong-based airline group says its net loss for the year ended 31 December 2022 is estimated to be between HK$6.4 and 7 billion ($817-894 million). This is compares to the HK$5.5 billion net loss for the 2021 financial year.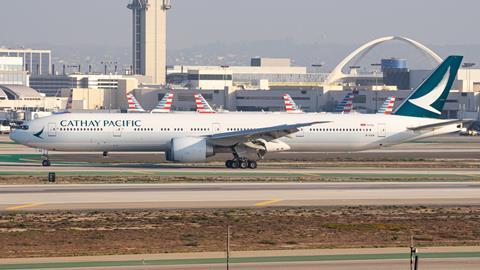 The earnings forecast, disclosed alongside traffic results for December, comes despite a "marked improvement" in earnings for the second-half of 2022, as travel restrictions in Hong Kong gradually eased.
The airline group first flagged a "substantial" full-year loss in November, where it said results from its associated companies will include "significant losses". Cathay will release its full-year results in March.
Airline chief Ronald Lam adds that the airline group has been cash-positive since the second-half of 2022, thanks to the relaxation of travel restrictions in Hong Kong and in other markets.
He adds: "Looking ahead into 2023, we are very excited to be firmly on the path to rebuilding Cathay Pacific and the Hong Kong international aviation hub. Nevertheless, challenges still remain and we are taking a measured and responsible approach to our rebuilding efforts."
The airline group expects to operate at 70% pre-pandemic passenger capacity by end-2023, and return to full capacity a year later.
Cathay reported a "drastic uptick" in passenger traffic for December, as Hong Kong did away with most of its travel restrictions, such as the need for quarantine upon arrival. Traffic was also boosted by easing of restrictions in other East Asia markets, including Taiwan and Japan.
Mainline carrier Cathay flew just over 800,000 passengers during the month, up eight-fold year on year. The figure, however, is still just 27% of pre-pandemic passenger numbers.
Cathay December traffic, as measured in RPKs, was up six-fold against 2021, while capacity more than doubled. Against pre-pandemic 2019, traffic and capacity is down about 68%.
The airline also doubled the number of points served in its network: 60 cities compared to 29 at the start of 2022. Lam says: "Demand was overwhelming for travel to short-haul leisure destinations as we continued to ramp up our frequencies."
Cathay expects strong demand to carry on through January and the Lunar New Year period, especially following Mainland China's decision to reopen borders.
"We aim to operate more than 100 return flights per week to and from 14 cities in the Chinese Mainland by the end of February," adds Lam.