Cathay Pacific carried more than a million passengers in January – for the first time in almost three years – as the airline works to increase capacity "as much as possible" in the coming months following the easing of travel restrictions.
Calling its January traffic results a "positive start" to the new year, Cathay's newly-minted commercial and customer chief Lavinia Lau says the airline saw demand spike for flights between Mainland China and Hong Kong, with the Lunar New Year holidays at the end of the month providing a boost to travel demand.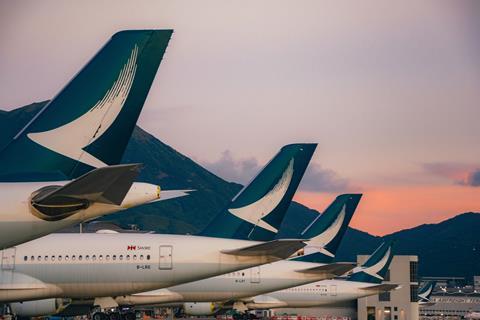 China on 8 January scrapped most of its 'zero-Covid' restrictions for travel, including the need for quarantine on arrival.
The Hong Kong-based carrier flew 1.03 million passengers in January, almost 29% more compared to December 2022. The figure is also a significant uptick against the 25,000 passengers Cathay carried in January 2022.
Traffic significantly jumped year on year - 38-times higher - while capacity rose eighteen-fold. Lau adds that the airline's January capacity was 18% higher month on month.
In its outlook, Cathay expects demand to grow further in the coming months, with the airline looking to ramp up Mainland China operations to about 100 weekly flights to 14 points.
Says Lau: "Looking at February and beyond, we are working hard to increase our passenger flight capacity as much as possible over the coming months, especially in the lead-up to the Easter holiday. Demand for flights to and from the Chinese Mainland, both for point-to-point and connecting traffic via Hong Kong, is expected to grow and we are endeavouring to provide more options for our customers as quickly as feasible."
As for cargo operations, Cathay carried over 95,000t of freight in January, a 28% year-on-year increase. However, tonnage was down 11% compared to December, caused mainly by a closure of factories in the Chinese mainland during the Lunar New Year holidays.
Lau adds: "Regarding cargo, demand will take some time to recover following the Lunar New Year holidays. We expect regional lanes to resume earlier than long-haul lanes, as is typical for this period."
Cathay in January said it expects a steeper full-year net loss on the back of "significant losses" from its associates. This was despite a "marked improvement" in earnings for the second-half of 2022, as travel restrictions in Hong Kong gradually eased.