Embattled Cathay Pacific struck a cautiously optimistic tone in its outlook for the rest of the year, anticipating a narrowed half-yearly loss and the gradual reinstatement of capacity in the coming months.
The Hong Kong-based carrier says that despite a tightening of quarantine measures and travel restrictions in the first half of the year, strong cargo performance – as well as cost-saving measures imposed in 2020 – have helped stave off any deeper losses.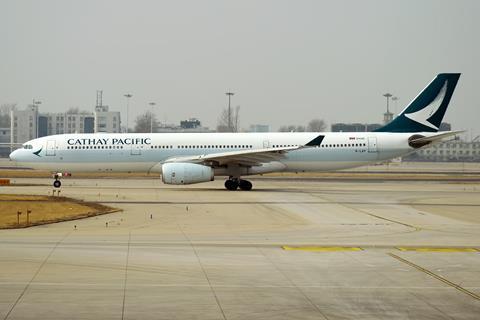 To this end, the Oneworld carrier expects its operating losses for the six months ending 30 June to be "somewhat lower than the losses reported in both the first and second halves of 2020".
Cathay reported a HK$8.7 billion ($1.12 billion) operating loss in the first half of 2020. Its full-year operating loss came in at a staggering HK$18.1 billion.
In outlining its traffic results for May, released on 18 June, the carrier notes that the easing of quarantine measures in Hong Kong, coupled with an ongoing vaccination programme in the territory, will allow it to "cautiously" restore capacity across its network to around 30% of pre-pandemic levels by the end of the year.
Still, Cathay's traffic results for May continued to be dismal: it carried just over 24,000 passengers for the month, averaging around 774 a day.
While this was 30% higher year on year, it was a 99% decrease compared to May 2019.
RPKs for the month increased 24.5% year on year, but was down nearly 99% compared to pre-pandemic levels.
Similarly, passenger capacity saw a 38% uplift from 2020 levels, but was 97% lower than May 2019.
Across its network, the carrier saw "increasing demand" for flights to the UK, with sales driven by passengers from Mainland China and Hong Kong.
In June, the carrier has been adding additional capacity to cater to demand from the UK, the USA and Mainland China. It has also reinstated flights to cities such as Amsterdam, Frankfurt, Seoul and San Francisco.