The Cathay Pacific Group continues to add capacity, and is recruiting the manpower to help drive Hong Kong's air travel recovery after three long years of the coronavirus pandemic.
The airline aims to hit 70% of pre-pandemic capacity by the end of 2023, and 100% by the end of 2024.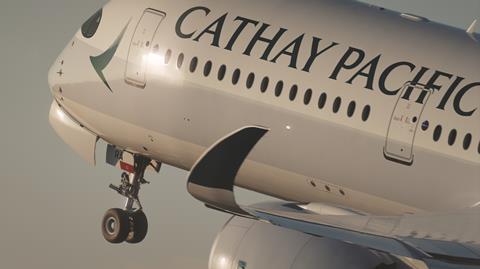 Cathay chairman Patrick Healy notes that by the end of March the group, which has been returning stored aircraft from storage, will hit 50% of pre-pandemic capacity. This is a dramatic increase from a year ago, when travel restrictions and crew quarantines cut the airline's capacity to just 4% of pre-pandemic levels.
"It really shows a very dramatic increase, and the complexity of building up to that level is really significant," says Healy.
"We have enough pilots and enough cabin crew to support current operations, and as the rebuilding and the reconnecting continues, we have recruitment plans in place that will enable us to keep pace with that recovery."
Healy made the remarks during a media call following the release of Cathay's 2022 annual results.
In 2022 the Hong Kong carrier swung to an operating profit of HK$3.5 billion ($450 million), in a year marked by Hong Kong's abrupt abandonment of travel restrictions. Revenues jumped 12% to HK$51 billion in the 12 months to 31 December 2022, and net losses widened to HK$6.5 billion, according to the carrier's full-year financial results.
Cathay chief executive Ronald Lam observes that Cathay's capacity ramp up has been very fast and appears even more dramatic considering its low base last year.
Lam also expressed optimism about low-cost travel, with HK Express to hit 100% of its pre-pandemic capacity by the end of March – especially impressive given that the low-cost unit was effectively grounded during the pandemic, including four months when it did not fly at all.
HK Express has particularly benefited from the reopening of the Chinese and Taiwanese markets.
The unit operates 26 aircraft comprising 16 A320 family jets and 10 A320neos. In April it will receive its first A321neo, which will also feature a new livery.
Greg Hughes, chief operations and service delivery officer at Cathay, adds that 2,000 staff were recruited in 2022, and that the airline will recruit 3,000 this year.
"After three very challenging years, we're really pleased to see that staff attrition and turnover has reduced to normal pre-pandemic levels…our people are staying with us," says Hughes.
He adds that a "large number" of pilots who departed now want to return to the carrier. "We very much look forward to welcoming them back in the coming quarters."
Hughes also shed light on Cathay's maintenance costs in 2022, which fell to HK$3.2 billion from HK$5.2 billion in 2021. He attributes this purely to timing issues around engine shop visits.
"It's a timing issue," says Hughes. "We still had a lot of aircraft parked last year. Some of the big maintenance cost areas are engine-related, and there just weren't so many engine inductions into the shop going on. Maintenance costs swill return to their high levels – unfortunately – but lower annual maintenance costs were really a factor of the effort going on at that time due to having such a larger number of the fleet parked and the low levels of flying."
In 2022, Cathay Pacific removed 24 aircraft from overseas storage.