Cathay Pacific reported a second consecutive month of traffic decline in November, as the embattled carrier continues to face "significant challenges" in its business.
The airline flagged the emergence of the Omicron variant of the coronavirus, as well as the Hong Kong government's move to tighten quarantine restrictions among its challenges as it heads into the year-end.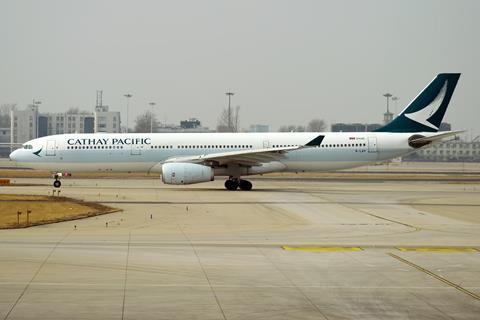 Chief customer and commercial officer Ronald Lam says the Omicron variant "has had an impact on sentiment for travel over the holiday season", and that tightened restrictions have affected the airline's ability to operate flights as planned.
The airline, which warned of a "substantial" full-year loss for 2021, has adjusted its year-end schedules to operate at only 12% of pre-pandemic levels.
"We continue to closely monitor developments as we review our passenger flight schedule for January and beyond," adds Lam.
In November, the carrier carried slightly over 70,000 passengers, about 85% higher year on year, but a plunge of more than 97% compared to the same month in pre-pandemic 2019. On a month-on-month basis, Cathay saw a 7.9% drop in passenger numbers.
Lam adds that the carrier flew about 5% fewer passengers a day in November compared to October.
Against 2020's low base, traffic and capacity rose 87% and 30% respectively. However, compared to 2019, traffic, measured by RPKs, was down 96%, while capacity plunged 88%.
Lam attributes the decline in traffic to a continued slowdown, particularly in student in travel from Hong Kong and Mainland China to the UK. This was partially offset by a rise in demand for flights to the US and Australia, which have opened their international borders.
As for cargo, Cathay carried more than 135,000t of freight in November, up nearly 16% year on year, but a 24% drop against 2019. Lam expects strong cargo demand to continue through December, with the carrier operating its full freighter schedules for the rest of the month.