Cathay Pacific warns that its full-year loss will be "substantial", despite "a considerable improvement" in its second-half earnings for 2021.
In an update about its October traffic, the beleaguered carrier also disclosed that it is "close to operating cash breakeven" for the four-months to 31 October, as efforts to manage costs continue.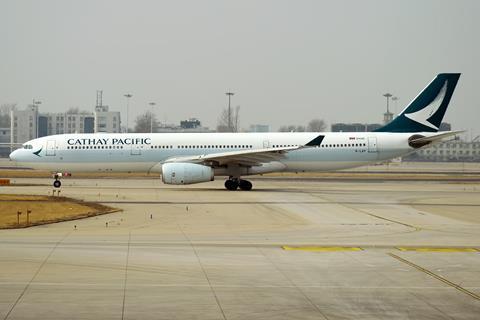 Coupled with a peak cargo period in the second-half of the year, the airline expects to see a "positive impact" on cash burn.
Still, Cathay's chief customer and commercial officer Ronald Lam warns that the operating environment "continues to be one of considerable uncertainty".
He adds: "Travel and operational restrictions continue to greatly impact our ability to mount flights and we are still facing many challenges to both our passenger and our cargo business as the Covid-19 situation in different parts of the world continues to evolve."
As for October's traffic, the carrier experienced another tough month, particularly on long-haul flights.
The airline flew just over 76,000 passengers during the month, 42% lower than September. Still, it was nearly double that of October 2020, when the airline was worst-hit by a collapse in travel demand.
Compared to pre-pandemic 2019, however, the passenger numbers represent a 97% plunge.
Traffic for the month rose 95% year on year, but was down 96% against pre-pandemic levels. Capacity rose about 20% year on year, but was down nearly 90% compared with October 2019.
Lam attributes part of the drop to a decline in student travel in early October, which he notes "had been robust" for the preceding months. Consequently, the carrier has had to cut capacity by about 19% month on month, he adds.
"While our long-haul routes were less strong, our short-haul operations remained robust with demand for flights serving Asia remaining encouraging, in particular those serving the Philippines, Indonesia and Vietnam," says Lam.
As for cargo, Cathay says demand continues to grow in October, with cargo capacity hitting 70% pre-pandemic levels.
Adds Lam: "We maintained an optimised freighter schedule to meet this demand, supplemented by capacity provided by our scheduled passenger services."