Cathay Pacific Group does not expect to park more aircraft in long-term storage overseas beyond those already in Australia and Spain, as it looks at cargo opportunities for more aircraft types to bolster revenue.
The troubled group, which reported a record operating loss of HK$18.1 billion ($2.3 billion) for the year ended 31 December 2020, adds that it is unlikely to impose further job cuts, "in the current environment".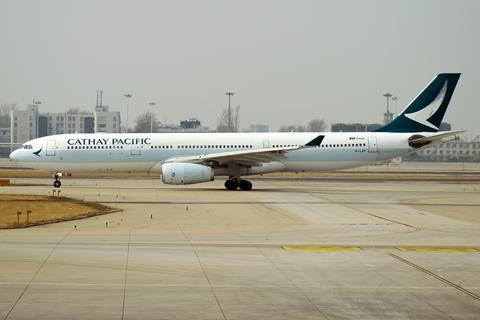 At a press briefing following the results release, Cathay's chief operations and service delivery officer Greg Hughes says the group is "satisfied" with the 92 aircraft currently parked in Alice Springs in Australia, and Ciudad Real in Spain.
Responding to FlightGlobal's question, Hughes adds: "There are no further updates, or changes to our current fleet plans around the reactivation of aircraft, or parking of aircraft."
The 92 aircraft comprise about 46% of its fleet, and is an upward adjustment from previously reported figures of about 40%. Cathay also took a one-time HK$2.8 billion impairment charge in 2020 for the early retirement of 34 aircraft.
The group has deferred deliveries of its Airbus aircraft — comprising A350-900s and -1000s, as well as A321neos — by about two years, and is in "advanced negotiations" with Boeing over delaying delivery of the 777-9 widebody.
Hughes says that the ongoing discussions with Boeing were also about delays to the 777X programme. Boeing in January disclosed further delays to the programme, with first deliveries slated for late 2023.
"We're still in discussion with Boeing about exactly what that means for our deliveries," says Hughes. He reiterates remarks made last year that the carrier expects to take its first 777-9 "beyond 2025".
He also tells reporters that the group is "assessing cargo opportunities" for more aircraft types, as it hopes to tap into opportunities in the cargo market.
Cargo was the rare bright spot in Cathay's dismal full-year results, with the group reporting an uptick in cargo revenue year on year. Still, the group states that there was "substantial contraction" in bellyhold capacity, as result of passenger capacity cuts.
To this end, Air Hong Kong, Cathay's all-cargo subsidiary, mounted additional charter flights, as well as operating cargo-only flights on modified passenger aircraft.
Hughes notes that Air Hong Kong is already operating two passenger-to-freighter (P2F) converted A330s in its fleet, and is expected to take delivery of more A330P2Fs from the end of this year into 2022.
NO FURTHER JOB CUTS, FOR NOW
On job cuts, Cathay group chairman Patrick Healy says that the assumptions made during its restructuring exercise last year remain valid.
Healy was referring to the group's HK$2.2 billion restructuring exercise announced in October last year, under which it cut 8,500 positions — or nearly a quarter of its workforce — as well as shuttering its regional unit Cathay Dragon.
"When we announced that restructuring, we did so on the basis of certain assumptions about 2021," Healy explains. "Those assumptions were that the first half [of 2021], we would be operating at well under 25% of passenger capacity, that we would see some improvements in the second half, but that overall for 2021, we would still be operating below 50%.
"When we look at our situation today, we would say that those statements are largely valid."
Still, he stresses that the outlook remained "extremely uncertain and dynamic", and that this could affect recovery.
"There are no immediate plans for further action…but frankly, the situation is so dynamic and so uncertain that we're not in a position where we could rule anything out," he adds.