Cathay Pacific has warned that it is not seeing any "immediate meaningful improvement" in passenger travel demand, as it discloses another dismal month of traffic figures.
Still, the troubled carrier notes that recent developments surrounding vaccination and a relaxation of quarantine rules for aircrew based in Hong Kong are welcome.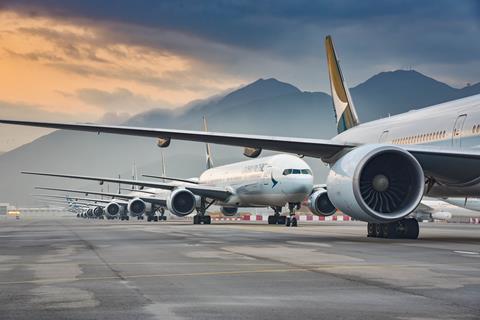 While the airline saw traffic improve year on year in April, it adds that it was still significantly lower than pre-pandemic levels.
In its latest traffic results for April, Cathay carried just over 22,400 passengers, representing a 63% increase year on year.
However, when compared to pre-pandemic figures in April 2019, it represented a staggering 99.3% decrease. On average, the carrier flew just 747 passengers a day in April.
RPKs across the network grew nearly 33% year on year, led by a fivefold increase in traffic from Mainland China. Cathay's chief customer and commercial officer Ronald Lam says the carrier saw an uptick in demand from the mainland toward the end of the month.
This was due to a quarantine-free scheme for returning Hong Kong residents from Mainland China introduced by the city's government.
Capacity for the month rose about 19% year on year, but was nearly 97% down from April 2019 levels.
Lam says the Oneworld carrier has been "cautiously" restoring capacity across its network — in April, it resumed regular flights to Chengdu, Xiamen, Kaohsiung, Melbourne and Perth, leading to a 21% month-on-month capacity increase.
Lam also welcomed the Hong Kong government's move to relax quarantine rules for fully-vaccinated crew.
He says: "[This] will progressively reduce our monthly cash burn and have a positive impact on our passenger and cargo business."
Cathay had previously raised concern that the tightened quarantine rules — involving a 14-day hotel quarantine and a seven-day medical surveillance requirement — would increase its monthly cash burn by around HK$300-400 million ($38.6-51.5 million).
Cathay plunged to a record operating loss of HK$18.1 billion for the year ended 31 December 2020, as revenue fell to just 2-3% of pre-pandemic levels.