Cathay Pacific will operate a handful of flights from Hong Kong to London Heathrow from 12 January, but return services will remain suspended.
The airline says it will operate flights to Heathrow on 12, 14, 15, 17, 18, 21 and 24 January, "in order to assist customers needing to travel to the UK". Its scheduled flight to Manchester on 15 January has now been cancelled.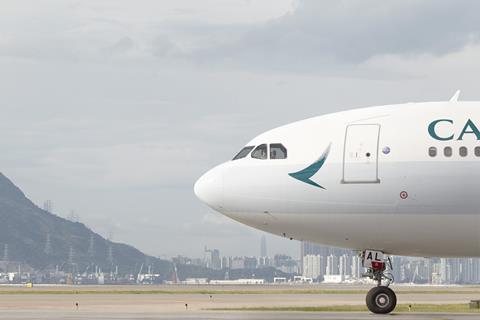 Cathay announced on 21 December that it would suspend all services to and from the UK between 22 December and 10 January. The carrier normally operates daily flights to Heathrow and a weekly service between Hong Kong and Manchester.
The move followed Hong Kong's decision to ban all commercial passenger flights to and from the UK, in an attempt to stop the spread of a new, more infectious Covid-19 variant that was discovered in the country.
All flights from the UK to Hong Kong will remain suspended until 25 January, says Cathay.