Cathay Pacific saw its passenger traffic plunge to a new low in a "difficult" January, as Hong Kong tightened restrictions to stamp out an insurgent wave of Omicron infections.
The embattled airline carried under 24,700 passengers during the month, an average of just 797 passengers a day.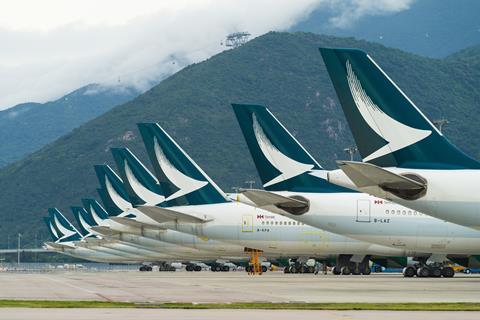 More dramatically, the number of passengers carried in January was a mere 0.8% that of pre-pandemic 2019, underscoring the impact Hong Kong's strict zero-infection policy has had on its home carrier.
Traffic was down 23.4% year on year, while capacity fell nearly 75% as the airline operated a skeletal network in the month. Against January 2019, traffic plummeted 99%, with capacity falling nearly 98%.
Hong Kong — one of the remaining places in the world to doggedly pursue a zero-Covid strategy — recently reimposed social gathering restrictions, including shutting gyms, bars and other public spaces, as well as prohibiting dine-in in the evening. It effectively shut its borders, banning flights from countries like the USA, UK, as well as Australia, all of which are key markets for Cathay.
As at 17 February, Hong Kong reported a record 6,116 confirmed cases.
Cathay's chief commercial and customer officer Ronald Lam says the carrier was hit by weak inbound, outbound and transit traffic in January.
"We've had a very difficult start to 2022 with the accelerated spread of the Omicron variant and the further tightening of travel and operational restrictions, notably stricter quarantine requirements for Hong Kong-based aircrew," he states.
Cargo, once the sole bright spot in Cathay's dismal traffic results, was also heavily impacted by Hong Kong's tightened restrictions.
In January, Cathay carried just over 74,000t of cargo, a 32% decline year on year and a 56% decrease against pre-pandemic levels. Cargo capacity plummeted 63% year on year and was down nearly 79% from 2019.
Lam offers a tepid outlook for the carrier, noting that passenger capacity during February will continue to operate at 2% pre-pandemic levels.
He adds: "Looking ahead in February and beyond, we will continue to operate a highly reduced passenger flight schedule until at least the end of March in view of the extension of quarantine measures for Hong Kong-based aircrew, the flight-specific and place-specific suspension mechanism as well as the transit ban by the Hong Kong government."
Cargo capacity for the first quarter of the year will likely remain less than one-third of pre-pandemic levels, says Lam.