Cathay Pacific reported its lowest ever passenger load factor in January, with passenger numbers for the month plunging to six-month lows, as it confronts an "extremely challenging" start to 2021.
In traffic results for January, Cathay discloses a passenger load factor of 13.3% — its worst performance on record. Daily passenger numbers averaged 981— the first time in more than six months that the airline carried fewer than 1,000 passengers a day.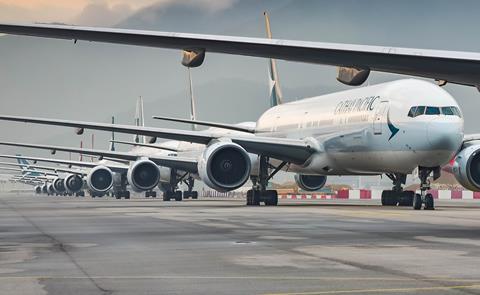 Says Cathay group chief commercial and customer officer Ronald Lam: "2021 has already got off to a difficult start. Many of the challenges of 2020 continued into January while a number of new ones have also emerged, most notably new Covid-19 strains and more severe lockdowns in some of our key markets."
Cathay, which warned of a worsening financial performance, carried 30,410 passengers for the month — a 99% drop year on year. RPKs plummeted 98.7% year on year, while capacity shrank 92%.
Lam says that the carrier has had to cut capacity in January — by about 6% compared to December 2020 — as a result of the Hong Kong government's ban on flights to and from the UK, following the discovery of a new, more infectious strain of the coronavirus.
He adds that "overall demand remained very weak" in the month, save for "a few pockets" of intra-Asia demand.
Looking ahead, Cathay expects the coming months to remain "extremely challenging". The Hong Kong government will on 20 February roll out stricter quarantine measures for returning air crew after being on duty — involving a 14-day hotel quarantine and a seven-day medical surveillance requirement.
Cathay had previously expected the new measures to increase its monthly cash burn, and result in cuts in passenger and cargo capacity.
In its latest update, the carrier discloses that it is "actively managing" its crew resources to mitigate the impact.
Adds Lam: "Nevertheless, as long as stringent quarantine measures continue to be in place in Hong Kong and elsewhere, the coming months will be extremely challenging. Our ability to adapt quickly will be key to our business and we will remain agile in adjusting our network plan in accordance with market demand."
Cathay's dire prognosis comes days after fellow Asian rival Singapore Airlines released its January traffic results, where it also noted the depressed demand in air travel as a result of ongoing travel restrictions.
The SIA Group, which also includes regional arm SilkAir and low-cost unit Scoot, carried 78.400 passengers in January, a 98% year-on-year decline. Traffic plunged 97%, while capacity shrank 80% compared to January 2020.
Still, SIA says it is optimistic that the availability of vaccines signal that there is hope for an imminent recovery.
"One year after the Covid-19 virus first began to spread around the world, the global rollout of vaccines in many countries including Singapore provides hope that an end may finally be in sight to the pandemic, and its debilitating impact on the aviation industry," it adds.