Cathay Pacific cut capacity in October — the first time in nearly half a year — as it saw passenger load factor for the month plummet to its lowest since the start of the coronavirus outbreak.
Releasing its traffic results for the month, Cathay blamed a resurgence in coronavirus cases in many parts of Europe for killing off travel demand to the UK and other parts of Continental Europe.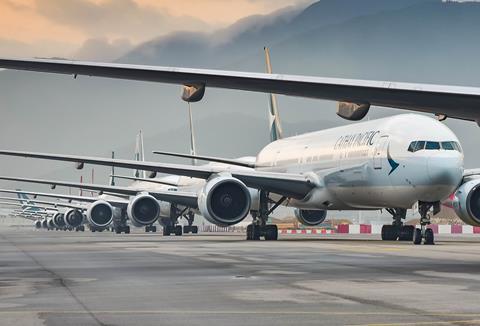 That, coupled with a tapering off in demand for student travel in early October, made for a "very difficult" month for the embattled carrier.
In October, Cathay Pacific and its now-shuttered regional unit Cathay Dragon, carried just over 38,500 passengers, nearly 99% lower year on year. It was also an 18% decline compared to September. Cathay adds that on average, it flew just over 1,200 passengers a day for the month.
The two carriers operated only 8.4% of planned capacity in October, lower than September's 9%. This was the first such capacity decline to be reported since May, when the carriers operated just 2.5% of planned capacity, down from April's 2.7%.
RPKs for the month tumbled 98% year on year, leading to passenger load factor to plunge to a record low of 18.2%, 59.3 percentage points lower year on year.
Cathay, which recently undertook a restructuring exercise that saw job cuts and the Cathay Dragon brand axed, notes that November continues to see sluggish demand.
Last month, it forecast that it would only be operating a quarter of its planned capacity for the first half of 2021, going up to 50% planned capacity for the rest of the year.
Still, the Oneworld carrier says there were a few bright spots — chief among them the recently-announced travel bubble arrangements between Singapore and Hong Kong.
Cathay is one of the two carriers — Singapore Airlines being the other — operating special flights between the two cities. Cathay group commercial and customer chief Ronald Lam says that the flights under the travel bubble arrangement — which allows for travel without a 14-day quarantine — "has been met with strong enthusiasm from the travelling public".
Says Lam: "This is a hugely encouraging development and an important first step in the return of regular international air travel to and from Hong Kong. As Hong Kong's home carrier, we are proud to facilitate what we believe will be a milestone showcase for the opening of more, similar travel bubbles with other popular destinations in the region and beyond."