Cathay Pacific expects to operate about 30% pre-pandemic passenger capacity by the fourth quarter of the year, as it notes the "small signs of improvement" in its June traffic results.
The embattled carrier, which recently had forecast a slimmer half-yearly loss, saw passenger traffic for the month pick up, especially from Mainland China, North America and Europe, helped by easing of transit restrictions in the city.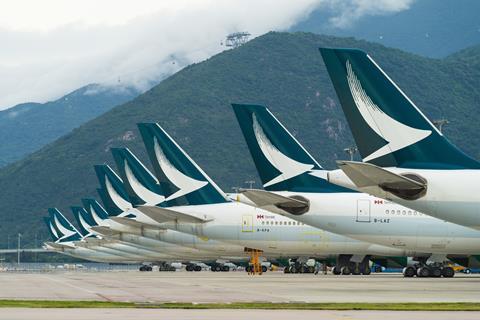 It carried around 40,600 passengers in June, a 50% increase year on year, and more than 66% higher than in May. Compared to pre-pandemic 2019, however, it was nearly 99% lower.
Cathay's chief customer and commercial officer Ronald Lam says the carrier flew an average of 1,355 passengers a day in June. On 25 June, Cathay carried more than 2,000 passengers, which Lam points out is "the most of any day so far in 2021".
RPKs for the month grew 61% year on year, while capacity doubled. Compared to the same month in 2019, traffic plunged 98%, while capacity was down 92%.
The carrier will "cautiously" add capacity to its network, as demand slowly picks up from some of its key markets.
"Student traffic demand to the US in particular is looking strong in the second half of August, and we are operating more frequencies on these routes to cater for it," says Lam.
He notes that newly-imposed travel restrictions to Indonesia, the Philippines and the UK will impact overall travel demand, but this is likely to be offset by improvements in other markets.
As for cargo, the Oneworld carrier carried more than 109,000t of freight in June, up 17.4% year on year, but a 33% decline compared to pre-pandemic levels.
Lam notes that cargo demand is expected remain strong for the rest of the year.
"The gradual resumption of more passenger services will provide us with greater belly capacity, and should coincide with the usual cargo peak season," he adds.