Philippine low-cost carrier Cebu Pacific Air saw its first quarter operating loss balloon to Ps6.8 billion ($124 million) from Ps692 million a year earlier.
Revenue for the three months ended 31 March fell 83% Ps2.7 billion, according to the airline's unaudited financial statement for the period.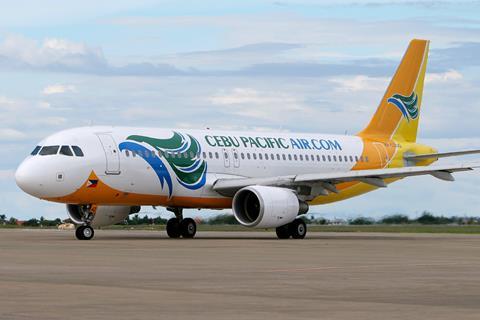 The airline attributed the sharp reversal to the coronavirus pandemic.
"The overall decline in revenues was brought about by the impact of the Covid-19 outbreak which started with cancellation of flights to China, Hong Kong, Macau and South Korea in varying periods in early 2020 due to the imposition of travel restrictions," says the carrier.
This rapid spread of Covid-19, first discovered in China, saw the Philippine government impose a "community quarantine" that forced the airline to cancel all flights from 19 March 2020. Services were "virtually nil" until April 2020, when the airline started to operate domestic and international cargo services.
In specific business segments, passenger revenue fell to just Ps887 million from Ps11.4 billion a year earlier, while cargo revenue grew 32% to Ps1.3 billion.
The airline notes that prior to 2020's suspension of regular flights, it operated 78 domestic and 25 international routes, for a total of 2,717 weekly flights. As of 31 March 2021, it was operating 55 domestic and nine international routes, for total of 578 weekly flights.
"Commercial passenger operations restarted last June 3, 2020 for domestic flights, but in a limited capacity," it adds. "Subsequently, the group gradually resumed more regular services. Currently though, it is still far behind its normal activity level due to ongoing flight restrictions and weak demand for travel."
Cebu Pacific, however, is confident in its ability to boost liquidity. As of 31 March, cash and cash equivalents stood at Ps15.3 billion, up from Ps4.3 billion on 31 December 2020. The increase was largely due to the successful fundraising, including the issue of Ps12.5 billion in convertible shares.
In a separate statement, the airline confirmed that a $250 million convertible bond issue has been successfully concluded with the IFC Emerging Asia Fund and Indigo Philippines, both of whom are private equity players.
"We view Indigo, IFC, and IFC Emerging Asia Fund not only as capital providers but also long-term partners in driving improvements in the business, as well as accelerating our sustainability agenda," says Cebu Pacific chief executive Lance Gokongwei.