Low-cost operator Cebu Pacific has signed a five-year agreement with Shell for the supply of blended sustainable aviation fuel (SAF), as it prepares to launch its first passenger flight powered by SAF.
The airline's chief strategy officer Alex Reyes told reporters it is working on incorporating SAF into daily commercial operations, but that "there are no further plans yet" on the rollout, given that SAF is not widely produced now and is costlier than normal jet fuels.
"[We want to] see how we can actually economically achieve this, knowing that it's also still quite expensive, and how we can … actually incorporate it into our regular operations, rather than just it being [one day]," he says.
Reyes was speaking in Singapore on 27 September, at the signing of the memorandum of understanding for SAF supply. Under the agreement, Shell will supply 25,000t of blended SAF annually to the low-cost carrier from 2026 to 2031.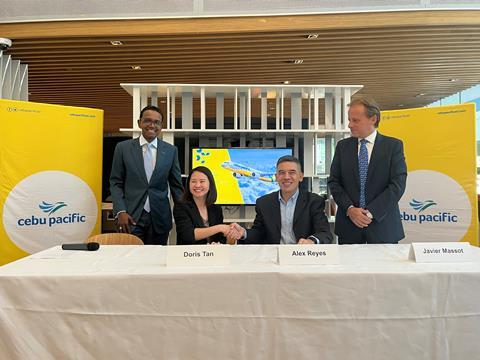 The signing also took place a day before Cebu Pacific operated its SAF-powered flight – flight 5J814 – from Singapore to Manila. According to Shell, which will be supplying the fuel in Singapore for the flight, the SAF is produced by Neste in Europe.
Reyes adds that the airline is working to make SAF supply available in the Philippines, which he believes will allow it operate more SAF-fuelled flights in the future.
He also notes that the airline does not foresee any additional capital expenditure following the agreement for SAF supply from 2026, but declines to disclose the value of the SAF supply agreement.
The airline also reiterates its commitment to use blended SAF on all its delivery flights through 2023. It currently has a fleet of over 70 aircraft, comprising A320 family and A330 jets, as well as ATR72s. It also has 47 more aircraft on order, according to Cirium fleets data.