Cebu Pacific announced plans to raise up to $500 million in additional capital — by selling preferred shares and bonds — as it undertakes a restructuring exercise that sees it cut its fleet and network to cope with reduced travel demand.
The Philippine low-cost carrier discloses that it will raise up to $250 million in new convertible preferred shares and another $250 million in private placement of convertible bonds.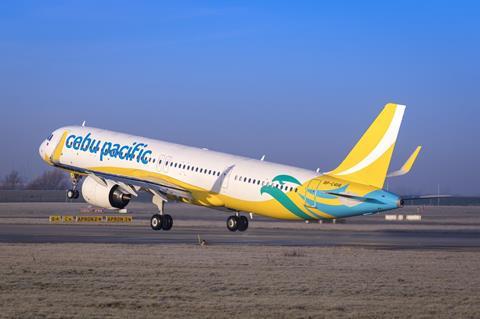 Proceeds from the recapitalisation exercise, subject to shareholder approval by November, will help strengthen the carrier's balance sheet, it adds.
It also comes as part of a wider business transformation exercise that the carrier is undertaking.
Like many carriers in and around the region, Cebu Pacific has acutely felt the impact of the coronavirus outbreak, which has seen travel restrictions crimp demand.
It notes that it is only operating about 15% of pre-pandemic capacity. For the first six months of the year, Cebu Pacific reported a 61% year-on-year decline in revenue, at Ps17.3 billion ($357 million).
It also reported an operating loss of Ps6.29 billion for the quarter ended 30 June, widening the Ps693 million loss incurred in 2020's first quarter.
"Due to this exceptional change in market conditions and industry dynamics, [Cebu Pacific] saw the urgent need to fast track its transformation. It is currently implementing a business transformation exercise that involves right-sizing of network and fleet to meet new demand, and improvement of operations efficiency through process and policy enhancements and digitalisation, among others," the carrier discloses.
Cebu Pacific adds that since the start of the pandemic, it has been accelerating efforts in digitalisation, "resulting in a significantly reduced unit cost, allowing the carrier to continue offering affordable air travel".
"This capital raising exercise will provide the airline with the needed runway to withstand the financial challenges it faces as it slowly goes back to pre-Covid business levels and settles into the 'new normal'," it states.