Cebu Pacific narrowed its second-quarter losses on the back of a four-fold jump in revenue, as passenger travel continues to recover.
For the three months to 30 June, the low-cost operator posted an operating loss of Ps2.8 billion ($50.4 million), an improvement on the Ps5.9 billion loss in same period in 2021.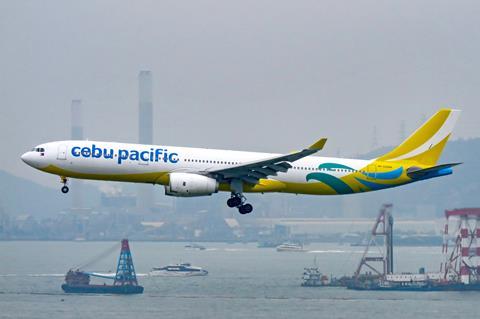 Cebu Pacific reported quarterly revenues of nearly Ps14 billion, more than four times higher year on year. "Revenue growth was driven primarily by strong recovery in the passenger and ancillary business which grew 644% and 572% year-on-year, respectively," says the carrier.
It adds that domestic flying has been a key driver of recovery, with the airline seeing passenger numbers increase more than six-fold year on year.
"[Cebu Pacific's] international network has also started to recover as travel requirements of other Southeast Asian countries such as Singapore and Thailand eased. [We] also expanded its network as it resumed flights to Hanoi, Bali, and Taiwan in the second quarter," it states.
As for expenses, the airline saw an 86% increase year on year to Ps16.8 billion. Costs relating to flying operations – including fuel costs – rose nearly six times.
The airline posted a net loss of Ps1.9 billion, significantly narrowing the Ps6.5 billion loss reported in 2021.
Airline finance chief Mark Cezar says: "[Amid] the risks posed by expensive jet fuel, peso depreciation and interest rate hikes, Cebu Pacific remains cautiously optimistic that we can turn the tide soon as domestic demand looks robust and international borders continue to reopen. We continue to stay true to our commitment of providing accessible air transport service for everyone."