Singapore's Changi airport will temporarily close Terminal 4 (T4) from 16 May, "in view of the small number of flights still operating in the terminal".
"The timing of [when T4 will resume operations] will depend on when air travel demand picks up and on the requirements of airlines seeking to relaunch flights at Changi airport," operator Changi Airport Group (CAG) said in a statement today.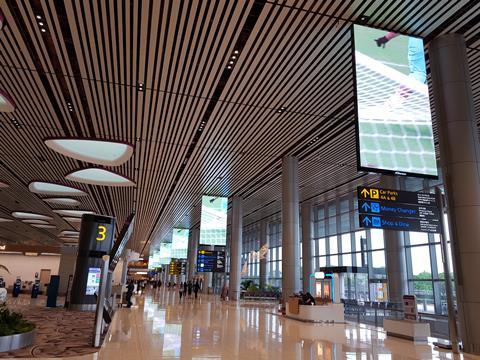 Airlines currently based in T4 will operate at T1 or T3 instead. Retail and food outlets at T4 will close and the shuttle bus service connecting to T3 will be suspended "until operations in T4 resume."
The operator says: "Even as terminal operations are scaled down during this period, CAG continues to work closely with its airline and airport partners and stands ready to restart operations at T4 as soon as a sufficient number of flights return to the terminal."
Changi handled 25,200 passenger movements and 3,870 commercial aircraft movements in the month of April, marking a 99.5% and 87.7% reduction year-on-year, respectively. Air freight movements during the month were down by 38.3% to 96,500 tonnes.
In April, CAG announced that it will shut T2 for 18 months starting 1 May, with an eye on suspending operations at T4 temporarily "but with the objective of restarting operations quickly when airlines confirm the resumption of flights".
It also stated the opportunity for accelerating planned upgrades at T2, with expected completion potentially brought forward by up to one year from the 2024 schedule.
In the latest statement, CAG said that shutting T2 will further consolidate terminal operations "to optimise resources in tandem with the sharp decline in flight movements because of the global Covid-19 pandemic".
Reiterating its stand from April, the operator says: "This move will enable CAG and its airport partners to continue to save on running costs such as utilities and cleaning."