China will drop quarantine for arriving passengers and other airline restrictions from 8 January 2023, in what is likely to spark a sharp capacity uptick from airlines.
The dropping of quarantine comes as China moves from "Class A" controls to "Class B" controls, according to China's National Health Commission.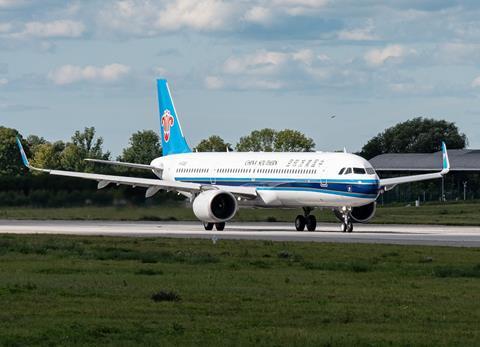 While passengers will no longer need to undergo quarantine upon entering China, they will need to take a PCR (polymerase chain reaction) test within 48h of their departure. Passengers will also be required to wear a mask on flights inbound to China.
Beijing recently dropped leader Xi Jinping's "zero-Covid" policy, which was characterised by mass lockdowns and endless rounds of testing for Covid-19 - and which carried a devastating economic cost. It contends that the Omicron variant of Covid-19 is less harmful than previous ones.
Reports from China, however, suggest extremely high infection rates and a rising death toll. Some governments have expressed concern that China's abrupt opening could lead to dangerous new variants.
China's opening follows a broader North Asia reopening in late 2022, which saw neighbouring North Asian countries such as Japan, South Korea, and Taiwan drop travel restrictions.
China's 8 January opening is likely to catch airlines on the back foot. As recently as the Association of Asia-Pacific Airlines 66th Assembly of Presidents in mid-November, airline chief executives generally felt that travel restrictions to China would continue well into 2023. None predicted a sudden reopening.
Beijing's move towards opening also comes as Asia-Pacific airlines struggle to restore capacity as 2022's travel rebound continues to gain steam.
Cirium schedules data shows that airlines provided 550,000 inbound seats to China in November 2022, 93.3% down from 16.5 million seats in November 2019, before the coronavirus pandemic emerged in the Chinese city of Wuhan.
In November 2019, the top five cities with departing traffic to China were Seoul (710,000 seats), Hong Kong (616,000), Osaka (444,000), Bangkok (440,000), and Taipei (366,0000).
The majority of capacity into the Mainland in November 2019 was provided by China's "Big Three" carriers – Air China, China Eastern Airlines, and China Southern Airlines – as well as smaller Chinese carriers such Spring Airlines and Xiamen Airlines.
Major international carriers that formerly deployed considerable capacity into China were Korean Air, Asiana Airlines, Thai Lion, and Thai AirAsia.