China Eastern Airlines anticipates restoring most of its domestic network by the end of July, as it records a ten-fold increase in flights within the country since the coronavirus outbreak bottomed out travel demand.
In an update following its release of June traffic figures, the SkyTeam carrier estimates that it will resume about 94% of domestic flights by the end of the month.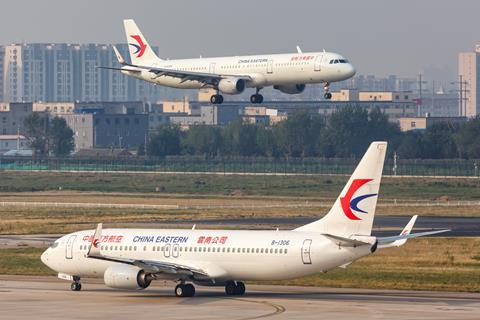 For the first half of July, capacity — measured by ASKs — has already seen a 10.5% increase compared to the same period in June, while the number of flights mounted has grown by 8.4%.
It notes that it is flying about 2,000 domestic flights a day now, compared to just 200 flights a day in February, when Mainland China was battling rising cases of the coronavirus.
To meet burgeoning demand, the carrier states that it will be introducing larger widebody aircraft — including those usually operating intercontinental routes — on selected domestic routes from its Shanghai hub. These include flights to Chengdu, Guangzhou, Chongqing and Shenzhen.
Cirium schedules data indicates that the carrier already has Airbus A330s operating selected flights on some of these routes, such as from Shanghai Hongqiao to Shenzhen and Chongqing.
Domestic passengers once again made up the lion's share of China Eastern's June passenger numbers. The carrier has also seen a steady month-on-month increase in domestic passenger numbers
It carried 5.17 million domestic passengers in June, compared to the 4.1 million domestic passengers flown in May.
China Eastern, together with Air China and China Southern, experienced month-on-month passenger traffic growth in June, with each carrier reporting increases in passengers carried, as well as in capacity and passenger load factors.