China Eastern Airlines vice president Jiang Jiang has resigned from his role, amid broader senior management changes that will see replacements in its supervisory committee.
Jiang, who tendered his resignation on 18 January, is leaving because of "work arrangements", says China Eastern, without going into detail.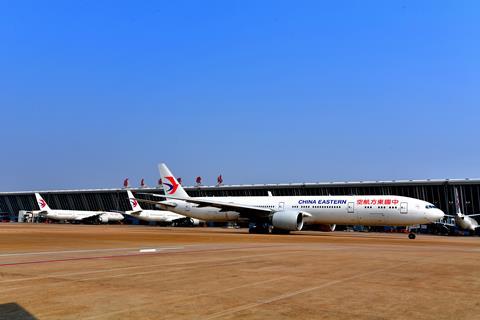 He will, however, continue to be an employee representative director, the SkyTeam carrier discloses.
According to a Bloomberg profile, Jiang began his career at the airline in 1999, joining as a deputy manager in the flight division. He rose up to become China Eastern's general manager in 2016, concurrently becoming its vice president a year later.
His resignation as vice president is effective immediately, states China Eastern.
The carrier has appointed two aviation veterans to fill the role — including promoting chief financial officer Zhou Qimin. Zhou joined the carrier from Chinese airframer Comac, where he helmed its finance department, until his departure in 2020.
Also appointed to the role as vice president at China Eastern is Xi Sheng, who resigned from heading the airline's supervisory committee on the same day.
Xi, who is the chief auditor at China Eastern's parent company CEA Holding, is a certified public accountant and auditor who is also the council member of China Institute of Internal Audit, the carrier states.
China Eastern has proposed the appointment of its chief economist Guo Lijun to replace Xi's role in the supervisory committee.
Guo joined the airline in 1994, working in the legal department, before moving to the planning and development division, and heading the airline's Beijing branch.
China Eastern says the proposal shall be subject to shareholders' approval.