OTT Airlines, the newly-launched subsidiary of China Eastern Airlines, has applied to the Civil Aviation Administration of China (CAAC) for regulatory approval to commence operations.
The CAAC discloses that OTT was established with registered capital of CNY1.5 billion ($219 million) and is solely funded by China Eastern.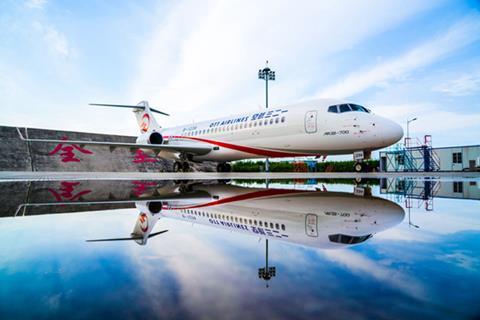 OTT, which is short for One Two Three, intends to operate domestic passenger and cargo flights from its base of Shanghai Hongqiao airport.
OTT intends to utilise China Eastern's two-letter IATA airline code of MU, with slots and air traffic rights transferred from its parent company.
The carrier will commence operations with 32 pilots and 21 flight attendants, alongside 42 maintenance crew. Additional manpower will subsequently be transferred from China Eastern, says the CAAC.
OTT launched in February, mainly to operate Chinese-made aircraft, including the Comac ARJ21 regional jet and the C919 narrowbody.
It took delivery of its first ARJ21, registered B-123A, in late June, alongside compatriots Air China and China Southern.