China Southern Airlines is set to spin off and list its logistics arm on the Shanghai stock exchange, as part of "business development" efforts amid dire financial results.
The airline's board on 28 March approved resolutions to list China Southern Air Logistics, stating that the move has "commercial reasonableness, necessity and feasibility".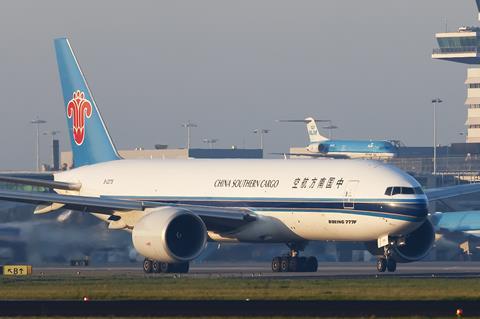 While they did not elaborate, the board notes China Southern has been "significantly affected" by a collapse in travel demand from the coronavirus pandemic, which it called a "force majeure".
"[China Southern] adjusted its operation strategy in a timely manner by rescheduling and reducing the number of flights, and adopted various measures to adjust its production and operation, such as optimising the allocation of traffic capacity, reducing operation costs, and expanding other businesses' income channels. However, due to the force majeure, the company's operation suffered a relatively significant impact and incurred losses," the filing reads.
China Southern's board also approved a share issuance resolution, which will see an undisclosed number of ordinary shares issued at CNY1 ($0.15) per share. The airline is targeting "strategic investors and price inquiry parties…[as well as] other institutional investors" in the issuance.
It also did not disclose the number of shares to issue, pointing out that it was dependant on "relevant regulatory authorities, the actual conditions of the securities market, the number of share capital before the issuance, and the capital [demands]".
Plans to list China Southern Air Logistics were first floated in end-November 2022, though the airline said then it had not submitted any official applications.
It comes as China Southern plunged to record losses in 2022, as China's now-abolished 'Zero-Covid' policy impacted travel demand. The airline reported an operating loss of CNY22.5 billion in the year to 31 December 2022, a significant uptick against 2021's CNY9.9 billion loss. Compatriots China Eastern and Air China have yet to release their full-year results.