Several free trade ports and zones in mainland China offer opportunities for leasing aircraft onshore under tax-efficient conditions, though few would say these provide much competition with Hong Kong, which has a well-established aircraft financing and leasing community and since 2017 has had a favourable tax regime for lessors.
This month, however, the Chinese government released a plan to develop the entire tropical island province of Hainan into a huge free trade port (FTP), around 30 times the size of Hong Kong. Hong Kong's biggest English daily the South China Morning Post suggested in a 2 June article that the Hainan FTP is being set up to compete with Hong Kong and Singapore, though the deputy director of state planning agency the National Development and Reform Commission (NDRC) insisted the Hainan FTP will "focus on different industries from those in Hong Kong", according to an 8 June article by the same publication.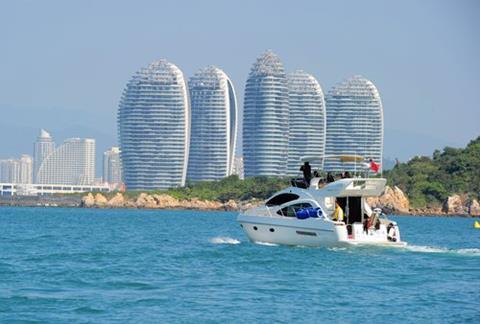 Aviation is not the FTP's main focus, but the plan that was published on 1 June does promise some perks for airlines, aircraft financiers and lessors, though details remain vague.
There does appear to be, however, substantial political and financial backing for the project as a whole. China's paramount leader Xi Jinping has thrown his support behind developing the FTP, and on 23 June, the NDRC said it would allocate CNY3.5 billion ($495 million) to the project, according to the state-run Xinhua News Agency.
One paragraph in the plan promises to "provide more high-quality and efficient financial services for ship and aircraft financing" and to "remove restrictions on overseas financing of ships and aircraft".
But what this means exactly is anyone's guess, says William Ho, a Hong Kong-based partner at law firm Bryan Cave Leighton Paisner (BCLP), who has studied the plan.
"I really don't know [what that means]," Ho told Cirium on 15 June. "It's interesting. There is some conflict in the plan. In one paragraph, it says something to the effect that in the Hainan FTP there will be 'cancellation of restrictions on cross-border aircraft financing'. But what it means, well, I really don't know," he said.
POLICY PRONOUNCEMENTS
China's government policy pronouncements can often sound vague and unwieldly to Western-trained ears, with their puzzling references to concepts like "Xi Jinping Thought", "Four Consciousnesses" and "Two Maintenances" that appear impenetrable to all but Sinologists.
Most aircraft financing and leasing executives seeking to interpret the Chinese government's intentions are often forced to read between the lines or rely on local experts to provide an interpretation. Local media reports, usually produced by heavily controlled state-owned media, rarely shed more light on projects than the government would care to reveal.
While lucidity may be wanting in the recent plan for Hainan, it has sparked interest in Hong Kong, where several law firms and consulting companies told Cirium they would be interested in assisting the Chinese government in developing aviation and aircraft finance in the Hainan FTP.
In 2017, Hong Kong's legislature passed amendments to its tax laws that granted significant tax concessions to locally based aircraft lessors. Since then, several lessors have expanded operations in Hong Kong and leased aircraft through Hong Kong structures.
Even though Hong Kong has been battered by anti-government protests, the coronavirus pandemic and deteriorating USA-China relations, observers say it would be difficult for Hainan to compete with Hong Kong for aircraft leasing dominance. The new FTP, they say, is more likely to be modelled along the lines of the successful Tianjin Dongjiang FTP, which had 1,593 aircraft as at end-2019.
Johnny Lau, chief consultant, aviation business services, at PwC in Hong Kong, is one who shares this opinion.
"Hong Kong has a simpler and different taxation system – no VAT, no customs duty, for example – so it would be difficult to copy this in Hainan. If you want to change any city in mainland China into Hong Kong it will be very difficult because you will need to insert many exceptions," he says.
"Tianjin Dongjiang started its first aircraft leasing in December 2009, so its leading position would not be easy to overshadow. In China, this kind of territorial competition is going on daily, and not only within aircraft leasing. I don't think Tianjin needs to worry; it's the kind of competition they have to face every day, and you can't stop other regions replicating your model."
CAPITAL FLOWS
BCLP's Ho, who was closely involved in developing the 2017 legislation that made Hong Kong more favourable to lessors, says there are several similarities to Tianjin Dongjiang in the Hainan FTP plan. As in the Tianjin Dongjiang FTP, lessors which acquire aircraft and import them from the USA or Europe into the Hainan FTP will not have to pay customs duty or VAT.
Ho says the plan also states that Hainan will simplify the approval process for foreign investors setting up enterprises there, which could benefit foreign lessors wanting to set up a base in Hainan, but the plan lacks details on how exactly that process will be simplified.
"To me it doesn't seem to make a lot of difference from Tianjin Dongjiang FTP, because if you want to set up a leasing company in Tianjin Dongjiang, it's not difficult," he says.
He adds that the plan has "quite a lot of talk" about inflows of capital, but does not present much information about capital outflows, a key feature for aircraft leasing.
If a Chinese investor puts money into a portfolio of aircraft outside China, that investor must convert Chinese yuan to US dollars.
"Now, that would always be the case that the Chinese government doesn't like that, as to a certain extent it would be construed as a depletion of foreign exchange reserves in China, so that is always under strict control by the Chinese government," Ho says.
He adds that he does not see any relaxation on capital outflows from the plan.
"If anyone is saying that 'Oh, Hainan FTP might be developed into a financial centre with the view to replacing Hong Kong in the future' – well, I think there is a long, long way to go."
VAT REBATES
BCLP's Ho says that how VAT is treated could pose significant competition to the Tianjin Dongjiang FTP.
The plan says that revenue from corporate income tax and personal income tax will be shared by the central government in Beijing and the Hainan provincial government. Sales tax and "other domestic tax revenues" will go to provincial government coffers.
When airlines and lessors structure an aircraft lease through the Tianjing Dongjiang FTP, it is up to the leasing company to negotiate with the government as to how much VAT rebate the leasing company may obtain from the local tax authority, Ho explains.
Ho says that if Hainan's local government has the discretion to waive VAT or give 100% VAT rebates, then this would be competitive against Tianjin.
"I would expect that Tianjin Dongjiang FTP would react to that, otherwise that point I think would drive Tianjin Dongjiang to extinction," he says.
Furthermore, double tax treaties are key to the success of any FTP. Part of the reason why Dublin, Singapore and Hong Kong – to name three of the world's most popular cities for aircraft financiers and lessors – are so popular is their wide network of double taxation agreements.
"Ireland has the most extensive and Hong Kong's network is growing and competitive for certain countries, but mainland Chinese free trade zones don't offer the same from an aircraft leasing perspective," says Thomas Kaplan, senior valuations analyst at Ascend by Cirium.
"A mainland Chinese FTZ would be used by an aircraft lessor primarily if they were leasing aircraft within China."
BENEFITS FOR AIRLINES
Besides perks – albeit vague ones – for aircraft financiers and lessors, the plan also promises to "implement a more open air transport policy".
This includes "promoting the realisation of" third and fourth freedoms of the air to and from Hainan via bilateral air transport agreements, as well as "expand[ing] the free trade of Hainan, including the fifth air rights, in accordance with China's overall air transport policy".
Moreover, the plan supports "the pilot opening of the seventh navigation rights in Hainan" where applicable countries and airlines will be allowed to carry passengers and cargo from Hainan to a third country or region.
Ho says this could mean, for example, that German flag carrier Lufthansa will be able to pick up passengers in Hainan and fly them to Tokyo. While this is an interesting measure to boost Hainan as an aviation hub, Ho doubts that Chinese carriers would readily agree to the increased competition – and Hainan also lacks several prerequisite features of an international aviation hub.
Compared with Hong Kong, which is a well-established aviation hub in Asia-Pacific, Hainan lacks an intermodal transportation network, he says. Passengers from Hong Kong International airport can easily transfer to buses, ferries, and other flights for onward travel.
"Hainan is further away from Beijing and Shanghai – and even Shenzhen – than Hong Kong. What Beijing wants to do is not set the Hainan FTP in competition with Hong Kong. They can't do that. The Hainan FTP will serve more, I think, the Greater Bay Area [GBA]. But even so, Hong Kong would not be, in my view, greatly affected, because Hong Kong is also very close to the Greater Bay Area."
In February 2019, Beijing released its GBA plan, aimed at linking 11 cities across the Pearl River Delta area to create an economic powerhouse region, like those in Silicon Valley or the Tokyo Bay area.
The Hainan FTP plan states that it will "strengthen exchanges and cooperation with Southeast Asian countries and promote joint development with the Guangdong-Hong Kong-Macau Greater Bay Area."
TOO EARLY TO SAY
One of the few pieces of very specific information in the plan is the announcement of a corporate and salaries tax rate of 15%. If implemented effectively, this could pose a challenge to both Hong Kong, where the top tax rate is 17%, and Singapore, with a 22% top bracket.
According to the Hainan FTP plan, its corporate income tax rate is set at 15%, while tax residents are subject to personal income tax brackets of 3%, 10% and 15%.
Still, most of the plan remains frustratingly vague and the market will have to wait some time for clarification from the government. It is, therefore, difficult to say what threat Hainan could pose to Hong Kong's status as Greater China's premier centre of aircraft financing and leasing.
Joanna Lu, head of consultancy Asia at Ascend by Cirium, says it is too early to comment on whether Hainan has the right conditions to support the aircraft leasing sector.
Successful aircraft leasing hubs, she says, usually have "a favourable location with ample space for development, preferential tax policies and clearly stated procedures, are English-speaking, and have established customs and immigration pre-clearance facilities".
A senior aviation finance banker based in Hong Kong is sceptical that Hainan could supersede his adopted city.
"It does not look like there will be a relaxation of currency controls or the rule of law as in Hong Kong," he says.
He is also not impressed by the track record of companies in Hainan.
"I am not holding my breath," he says, "just looking at the 'success' of HNA Group."
Analysis by Michael Allen of Cirium