China's three largest carriers reported mixed domestic traffic results in January, as the Omicron variant of the coronavirus damps air travel demand.
The 'Big Three' — comprising Air China, China Eastern Airlines and China Southern Airlines — all saw modest increases in capacity and traffic during the month.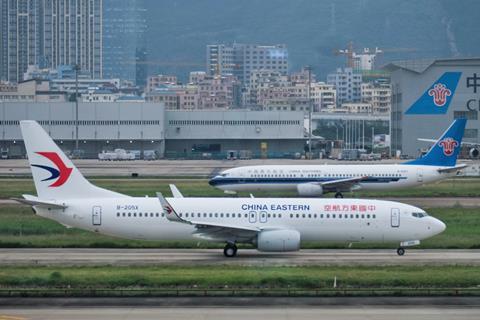 However, only China Southern reported a rise in passengers carried, with its two compatriots seeing a slight dip in numbers.
Air China carried 4.3 million domestic passengers in January, 1.3% lower year on year. Domestic traffic for the month rose 2.5%, with traffic increasing 1%.
Compared to December, the Beijing-based airline carried 2.9% more passengers, while capacity and traffic rose 10.7% and 4.1%, respectively.
Shanghai-based China Eastern carried close to 5 million passengers in January, a decline of about 2.6% year on year. On a month-on-month basis, the figure is about 4% higher.
The SkyTeam carrier saw capacity increase 7.4%, while traffic inched up 0.2% year on year.
As for China Southern, it carried 6.6 million domestic passengers in January, representing a 10.5% increase year on year. Traffic and capacity climbed 22.5% and 19%, respectively.
Against December, the Guangzhou-based carrier saw domestic passenger numbers rise about 8%, with traffic increasing 12.6% and capacity 16.3%.
In January, the carriers grappled with a spike in local infections, but any further hit to traffic was offset but an increase in demand at month's end, in the lead up to the Lunar New Year holidays.
Says China Eastern: "The pressure on China for preventing the importation of cases continued to grow. The COVID-19 pandemic in China is still characterised by the coexistence of localized outbreaks and gatherings, but remains stable in general."
The 'Big Three' expect to be loss-making for a second consecutive year, as they blamed a lack of international travel demand and a "fluctuation" in domestic recovery for their woes. The three carriers also forecast a steeper net loss in 2021 than in 2020.