China's three biggest carriers recorded year-on-year domestic passenger traffic growth for the first time since the coronavirus outbreak began.
Releasing their traffic results for September, the 'Big Three' — comprising Air China, China Southern Airlines and China Eastern Airlines — each carried more passengers compared to the same month last year. Domestic ASKs and RPKs also saw year-on-year increases.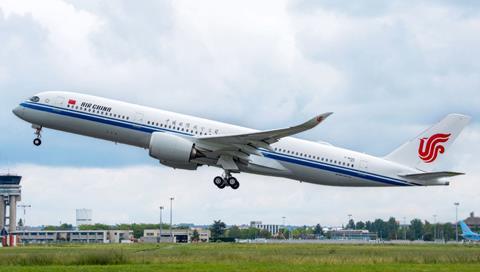 Still, the carriers note that while domestic air traffic has recovered to pre-pandemic levels, international air travel demand still remained depressed, due largely to travel restrictions.
The 'Big Three' also warned that their financial performance for the quarter ended 30 September — due to be released soon — will be "materially and adversely affected", contradicting analyst indications that a full domestic recovery could push Chinese carriers back into profitability.
For the month, Air China carried 7.78 million domestic passengers, a 1.3% increase year on year. It also represented a 7% rise from August's passenger numbers.
Overall, the Star Alliance carrier carried 7.82 million passengers across its network for the month, 6.9% higher than August's figures, but a year-on-year decline of 16.6%.
Domestic ASKs for the month rose 5.6% year on year, and increased 4.6% compared to August. RPKs, meanwhile, inched up 0.1% compared to the same period last year. It also grew 9.2% month on month.
As for China Southern, it carried 11.1 million passengers domestically — a modest 2.5% increase year on year, and an uptick of about 8% compared to August. Across its network, the Guangzhou-based carrier flew 11.2 million passengers — nearly 12% lower year on year.
Domestic ASKs saw a 6.6% year-on-year increase and a 6.3% increase compared to August. Domestic RPKs grew 1.6% compared to 2019. Month on month, it increased nearly 13%.
China Eastern carried 8.9 million domestic passengers in September, a 1.2% increase year on year and a 5.1% increase month on month. It carried nearly 9 million passengers across its network for the month, a 14% year-on-year decline.
The SkyTeam carrier also reported the highest year-on-year increase in domestic ASKs among the 'Big Three' — at 8.5%. Month on month, domestic ASKs grew 2.5%.
RPKs for the month saw a 3.6% increase compared to 2019, while it also grew about 7.6% month on month.
September's traffic results caps off months of steady improvement in domestic traffic in China, after authorities announced that the coronavirus outbreak — which originated in the country — had been brought under control.
Chinese airlines also carried more than 13 million passengers across the recent Golden Week holidays in early October, with the number of flights mounted during the period close to pre-pandemic numbers.