China's three largest carriers — Air China, China Eastern Airlines and China Southern Airlines — continued their loss-making streak for a second year, though they cut their half-yearly losses on the back of stronger revenues.
A domestic travel recovery — helped by China's claims of gaining full control over the coronavirus outbreak — helped the 'Big Three' grow passenger revenue, while a robust cargo market led to modest increases in cargo revenue.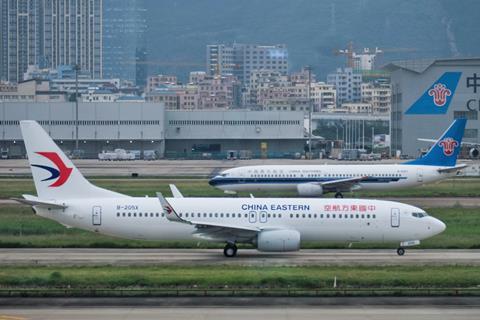 For the six months ended 30 June, Air China reported an operating loss of CNY6 billion ($927 million), narrowing its CNY6.7 billion loss during the first half of 2020.
Group revenue for the period climbed 27% to CNY37.7 billion, on the back of increased passenger traffic, particularly on the domestic network, which saw traffic jump 70% year on year.
By segment, passenger revenue rose nearly 35% year on year, while cargo revenue increased by just 9%.
Expenses rose 20.4% year on year to nearly CNY46 billion, as flying activity increased.
The Beijing-based carrier reported a net loss of CNY6.8 billion, narrowing the CNY9.4 billion net loss it posted in 2020.
Meanwhile, China Eastern was CNY5.5 billion in the red at the operating level for the period. This compares to the CNY8.6 billion operating loss it made in 2020.
Revenue for the half-year rose 38% to CNY34.7 billion. Passenger revenue increased nearly 40% year on year, outpaced by a 51% jump in cargo revenue for the period.
Group expenses rose 20% year on year to CNY43.2 billion, as operations-related charges grew on the back of increased flying.
The SkyTeam carrier posted a net loss of CNY5.2 billion for the period, narrowing the CNY8.5 billion net loss in 2020.
As for China Southern, it posted an operating loss of CNY3 billion, more than halving the CNY6.9 billion loss it made during the same period in 2020.
Group revenue grew 33% year on year to CNY49 billion, with passenger revenue increasing 38% and freight income rising about 16% year on year.
The Guangzhou-based carrier reported a 18.7% increase in group expenses, to CNY56.5 billion.
It narrowed its net loss significantly for the period, at CNY4.7 billion compared to CNY8.2 billion in 2020.
As with airlines globally, the 'Big Three' note that the coronavirus pandemic poses the largest uncertainty to recovery. While China remained in relative control of the coronavirus, a fifth wave in the middle of the year — caused by the more infectious Delta variant — is threatening to upend recovery momentum.
To this end, the carriers will prioritise "stable operations" in the second half of the year. China Eastern, for instance, states that it continues to "flexibly" adjust fleet and capacity in response to changing pandemic demands.
China Southern states that it will "adjust its marketing strategy with flexibility, continue to seize opportunities in freight transportation, and take multiple measures to reduce costs and increase efficiency as a way to strive for better operating result".
The carrier will also build up cargo operations in its Beijing Daxing airport hub, "to fully increase the cargo and mail throughput".