HNA Group will undergo a business reorganisation after creditors filed for its bankruptcy.
The group, one of China's largest conglomerates with interests mainly in the aviation and tourism sectors, discloses that it received formal notice of the filing from the Hainan High People's Court on 29 January.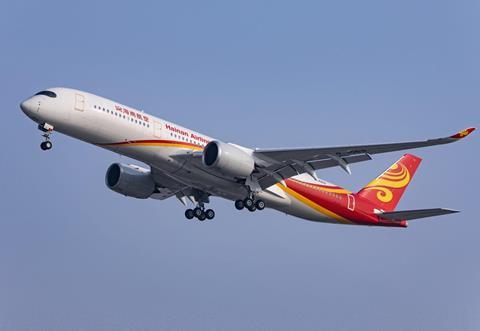 Creditors have "filed an application for the initiation of reorganisation procedures against our company, on grounds that we cannot pay off due debts", HNA Group discloses.
It adds that it will comply with legal instructions and "promote debt disposition actively", while ensuring that businesses under its holding continue to operate as usual.
This marks the latest development to hit the troubled group, which in March 2020 requested a lifeline from the provincial government.
Gu Gang, chairman of Hainan Development Holdings, the government's investment arm, was leading a joint working group to address the firm's liquidity risks, as its airlines reeled from the collapse in travel demand during the coronavirus outbreak.
HNA Group began life in 1993, and has since grown to a massive conglomerate featuring 14 airlines — including Hainan Airlines, Lucky Air and Grand China Air — and more than 900 aircraft.
Between 2015 and 2017, the group underwent an acquisition spree, purchasing stakes in multiple companies around the world, including a number in the aviation sector. These include stakes in Virgin Australia, which it formerly held, Zurich-based MRO SR Technics, as well as lessor Avolon, which was purchased through HNA Group leasing arm Bohai Leasing.