Chinese carriers reported a significant increase in domestic traffic during the week-long Lunar New Year holidays, benefiting from the abandonment of the country's tight Covid-19 controls.
During the seven-day period – between 21 and 27 January – known as the 'Golden Week', Chinese airlines carried over 9 million domestic passengers, an increase of nearly 80% year on year.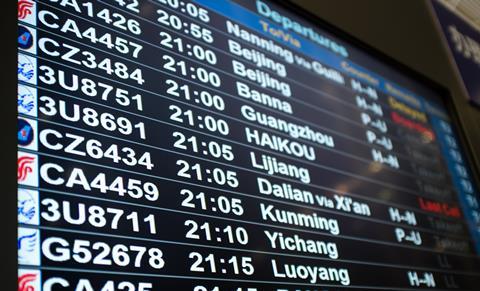 Data from the Civil Aviation Administration of China (CAAC), issued on 28 January, also shows that passenger load factor to be at its highest in the three years of the pandemic, at 76%. The figure is 20 percentage points higher than 2022's Lunar New Year period.
This year's Lunar New Year holiday is the peak travel period since China abruptly dropped its onerous 'Zero Covid' measures, including quarantine and testing on arrival, in early January.
While the move has sparked an explosion in infections across the country, several Chinese carriers have announced a capacity ramp-up in time for the holiday season. China Eastern Airlines, for instance, said it would be restoring up to 87% of its pre-pandemic domestic capacity during the period.
According to CAAC data, Chinese carriers mounted an average of nearly 12,000 domestic flights a day during the seven-day period, an increase of almost 34% year on year. Popular routes during the holiday period include Beijing-Shanghai, Shenzhen-Shanghai, Beijing-Guangzhou, as well as Chengdu-Guangzhou.
The agency did not release traffic data for international flights during the holiday period.