Two of China's three largest carriers are to delist from the New York Stock Exchange (NYSE), citing the limited number of shares traded and the sufficiency of existing listings in Shanghai and Hong Kong.
In separate filings made on 13 January, China Eastern Airlines and China Southern Airlines say they would be apply for delisting by the end of January, with trading of their depository shares ending on or about 2 February.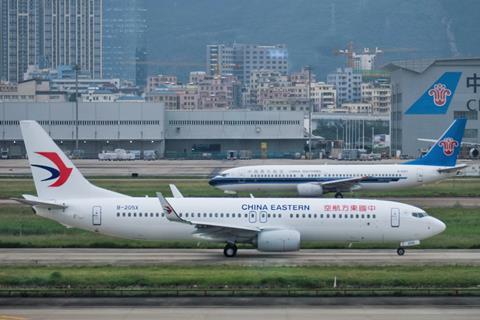 Explaining its reasons for delisting, China Eastern says its shares traded on the NYSE are "relatively small compared to the total number of shares of the company", adding that there are "considerable costs" with maintaining a listing of the American depository shares on the NYSE.
Both China Eastern and China Southern state that the Hong Kong Stock Exchange, as well as the Shanghai Stock Exchange were "sufficient alternatives" for their "future financing needs".
Guangzhou-based China Southern adds that its Hong Kong and Shanghai listings "can satisfy the company's fundraising requirements necessary for its normal business operations".
The two carriers are among a growing list of state-owned enterprises to delist from American stock exchanges. In July, a number of Chinese companies such as oil and gas giant Sinopec, as well as China Life Insurance, sought to voluntary delist from the NYSE.
The wave of delistings comes as the US government demands greater disclosure from Chinese companies listed in the USA.
In their latest filing, both carriers state that following their exit from the NYSE, they would not be seeking to re-list in the future.
Air China, another state-owned carrier, trades in Shanghai and Hong Kong, in additional to being listed on the London Stock Exchange.