Chinese regulators have approved Korean Air's acquisition of rival Asiana Airlines, with the South Korean Airline making some key concessions.
The approval from China's Ministry of Commerce (MOFCOM) came on 26 December, says Korean.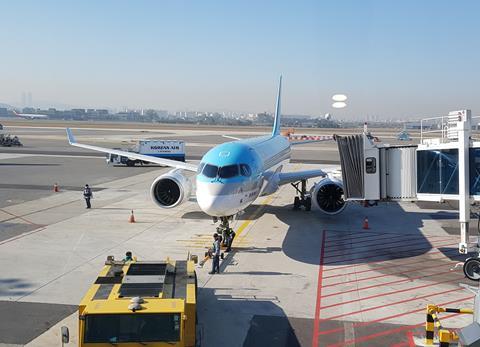 "MOFCOM has demanded that the merged Korean Air-Asiana entity reduce its market share due to competition concerns, to which Korean Air has submitted remedies proposing to transfer slots to any new airlines wishing to start air services on nine routes where both Korean Air and Asiana Airlines operate," says Korean.
MOFCOM's demands centred on five routes that were originally proposed by the Korea Fair Trade Commission, as well as four additional routes.
"Korean Air expects MOFCOM's approval of the business combination to play a positive role in the review process of the remaining competition authorities," it says.
Korean still awaits approval from the European Union, USA, and Japan, as well as final approval from the United Kingdom.
In November, the UK raised concerns about the merger on the basis that Korean and Asiana were the only carriers providing services on the Seoul-London route. Korean say that the UK Competition & Markets Authority has accepted remedies submitted by Korean, but wants to gather the market's approval before giving official approval.
Along with China, countries where the approval process has been completed are Australia, Malaysia, South Korea, Singapore, Turkey, Taiwan, and Vietnam.
SkyTeam carrier Korean originally announced plans to acquire Asiana in late 2020.