South African carrier Comair has suspended scheduled flights as it bids to secure additional funding to enable it to resume services.
The airline, which operates British Airways franchise flights in South Africa and services under the Kulula budget brand, suspended flights from the evening of 31 May pending securing additional funding. It has also suspended ticket sales.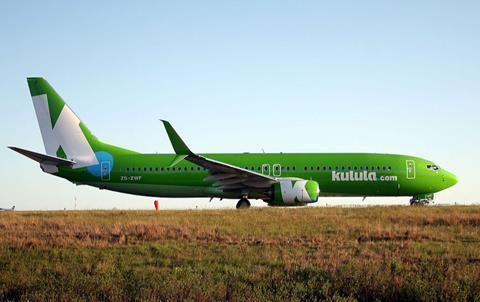 Comair chief executive Glenn Orsmond says: "We deeply regret the inconvenience this suspension will cause our customers. We did everything we could to avoid it. Comair, the Business Rescue Practioners (BRPs) and the lenders are working all out to get the funding in place so that we can resume our normal flight schedule as soon as possible.
"Comair is inherently a viable business," he adds. "We have two of the best airline brands in the country. We are on track to carry over 4 million passengers this year and generate R5.3 billion ($340 million) in revenue. We have excellent staff, a modern fleet, good sales and distribution channels and low operating costs, which is why we believe the funding will be secured."
It marks another setback for Comair, which has faced a challenging operational period over the past two years amid the pandemic, issues arising from a maintenance audit and its own formal financial restructuring.
Comair entered a formal business rescue process in May 2020 and flights remained grounded even after South Africa began easing Covid-related travel restrictions, until an investment consortium – comprising seven named individuals and an investment vehicle, Luthier Capital – agreed a rescue deal to acquire 99% of the airline.
While Comair resumed flights in December 2020, services were further interupted by Covid travel lockdowns last year. The airline was also briefly forced to suspend flights in March this year until it addressed issues raised by the country's avation regulator during a safety audit.
Cirium fleets data shows Comair had seven Boeing 737-800s and a pair of 737-400s in service. The airline also has five stored aircraft and five 737 Max 8s on order.