Indian low-cost carrier IndiGo slumped to an operating loss of INR4.6 billion ($63 million) for its 2021 financial year, compared with an operating profit of INR56 billion a year earlier.
Revenue fell 59.1% to INR146 billion for the year ended 31 March, according to the airline's results statement. Net losses widened to INR58 billion, compared with INR2.3 billion the previous year.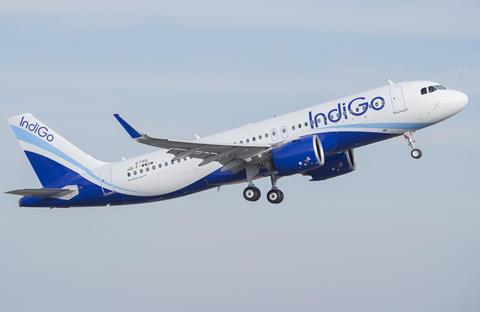 "This has been a very difficult year with our revenues slumping hard due to [coronavirus], showing some signs of recovery during the period December to February and then slumping again with the second wave of the [virus]," says IndiGo chief executive Ronojoy Dutta.
"While we have seen a sharp decline in revenues in March through May, we are encouraged by the modest revenue improvements starting last week of May and continuing through June."
As for the fourth quarter of 2021, IndiGo posted a net loss of INR11.5 billion, compared to a net loss of INR8.7 billion a year earlier. Revenues fell 25% to INR62.2 billion.
As of 31 March, cash and cash equivalents stood at INR5 billion, compared with INR7.2 billion a year earlier. However, bank balances other than cash and cash equivalents stood at INR107 billion, compared with INR102 billion a year earlier.
Adds Dutta: "We see this pandemic as a period of great trial for both our shareholders and our employees. We are focusing all our efforts and all our energies to strengthen the foundations and the pillars of IndiGo so that we emerge from this trial significantly stronger structurally and even more customer responsive than ever before. While we have produced disappointing financial results this year, we have also positioned ourselves to be the best-in-class airline when the inevitable recovery finally arrives."