AirAsia Group carriers reported a significant decline in passenger traffic for the first quarter of 2021, amid an uptick in coronavirus cases in key markets that threaten hopes of a recovery.
For the quarter ended 31 March, AirAsia's Malaysia, Indonesia and Philippines units carried about 977,000 passengers in total, a 90% year-on-year decrease.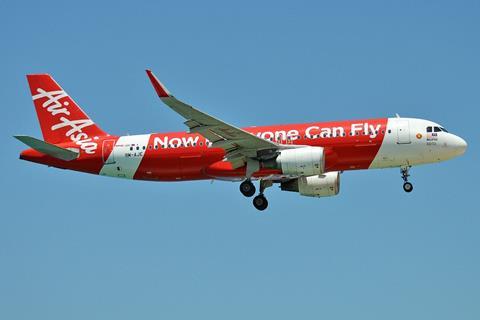 AirAsia Thailand carried around 978,000 passengers for the quarter, which was a 78% decline compared to the same quarter last year. The carrier saw ASKs decline 79%, while RPKs plunged 82% year on year.
AirAsia's Malaysia unit saw quarterly capacity and traffic plunge 94% year on year, as it flew only 3,700 flights — 92% lower than the same quarter in 2020.
In Indonesia, AirAsia saw capacity plummet 78%, while traffic declined 82% year on year. The unit mounted 3,071 flights for the period, a 76% decline year on year.
As for Philippines AirAsia, it reported a 93% drop in ASKs, while RPKs fell 94% year on year. It flew just over 1,260 flights, representing an 89% decrease.
The group, which had earlier pinned its hopes on its domestic networks to lead a traffic rebound, also had to confront numerous domestic travel restrictions in several markets, including Malaysia and Thailand.
Still, AirAsia Group notes: "AirAsia expects to see solid domestic demand in its key … markets in the next few quarters as the majority of the population receives their vaccinations and due to strong pent up demand."
It adds that while quarterly traffic remain dire, it is seeing an increase in traffic for March. On a month-on-month basis, AirAsia Group says all its units reported significant jumps, with its Thai unit doubling passenger numbers. AirAsia Malaysia saw an 84% increase in passengers carried, while its Philippines and Indonesia units saw 57% and 29% month-on-month rises respectively.
Key AirAsia Group markets in the region are moving ahead with inoculation drives, though vaccination rates remain low.
Indonesia, for instance, has only fully vaccinated less than 5% of its population, while Malaysia fares slightly worse, at just over 2%, according to data compiled by Reuters.