Vietnam low-cost carrier Vietjet Air had a challenging 2021, with revenue and gross profit down from 2020.
For the 12 months ended 31 December, the carrier's revenue from sales of goods and provision of services was D13 trillion ($569 million), down 27.7% from a year earlier, according to a company stock exchange filing.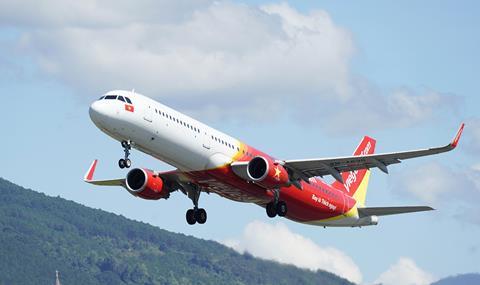 Vietjet says that the coronavirus pandemic led to "continued setbacks" during 2021, but that Vietnam's vaccination campaign means the sector showed signs of recovery toward the end of the year.
The carrier also suffered a full-year gross loss – revenue minus cost of sales – of D1.95 trillion.
Nonetheless, Vietjet was able to report a net operating profit of D178 billion, largely owing to its financial income quadrupling to D3.9 trillion. It did not break down the financial income figure.
On a net basis, the carrier says it generated a net profit after tax of D100 billion.
"Vietjet has worked to optimise the operating cost per flying hour and lower aircraft renting costs throughout the year," it says.
"The airline has received support from the government for the aviation sector including a 50% fee waiver for landing and taking-off, 50% fee waiver for environmental protection fee on aviation fuel until the end of 2022 and other discounts for airports fees and ground services rates."
On a quarterly basis, Vietjet's revenue from sales of goods and provision of services dropped 36.4% from a year earlier to D2.8 trillion, but it managed a quarterly gross profit of D370 billion, largely owing to its sharply lower cost of sales during the period.
The carrier had a very strong cargo performance in the last three months of 2021, with cargo revenue quadrupling to D1.4 trillion.
The fourth quarter of 2021, however, saw no revenue from sale and leaseback transactions. In the last three months of 2020, VietJet had generated D1.2 trillion from aircraft sales, accounting for about a quarter of total revenue.
Ancillary revenue in the fourth quarter of 2021 fell 82.8% from a year earlier to D229 billion, but "net revenue from other" doubled to D817 billion. The carrier offered no explanation for either change.
As of 31 December 2021, cash and cash equivalents stood at D1.9 trillion, down from D2.9 trillion on 1 January 2021.