Cathay Pacific Group saw its full-year passenger revenue collapse to just 2-3% of pre-pandemic levels, as it warned that its immediate outlook continues to be challenging.
The troubled group, which had earlier warned of worsening financial performance amid depressed travel demand, reported an operating loss of HK$18.1 billion ($2.3 billion). This compares to the HK$3.4 billion full-year profit it made in 2019.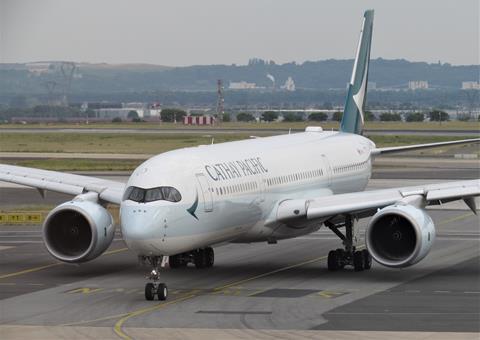 Total revenue fell 56.1% year on year to HK$46.9 billion, led by sharp declines in passenger revenue.
Cathay group chairman Patrick Healy notes: "Since the onset of the [coronavirus] pandemic, our passenger revenues in 2020 declined to only 2-3% of 2019 levels. With demand at an all-time low, we drastically reduced our passenger schedule to just a bare skeleton and our operating capacity remained below 10% for much of 2020."
Cargo revenues, however, saw a slight uptick compared to 2019: it increased about 17% year on year to HK$27.9 billion, but was not enough to outpace the collapse in passenger revenue.
Expenses for the year fell 43.4% to HK$58.6 billion.
The beleaguered group reported a staggering net loss of HK$21.6 billion, as it also took on a number of hefty one-time impairment and restructuring costs, including those relating to the early retirement of 34 aircraft from its fleet.
It ended the year with about HK$6.2 billion cash and cash equivalents. This compares to the HK$8.9 billion cash and cash equivalents it began the year with.
Cathay low-cost unit HK Express reported a "significant" net loss of HK$1.72 billion for the full-year, amid a "sudden contraction in passenger demand" caused by the coronavirus pandemic. The carrier suspended all flights between 23 March and 1 August.
Last October, Cathay slashed 5,900 jobs across the group and shuttered the Cathay Dragon regional brand, in a bid to reduce its cash burn. This came after it plunged to a record HK$8.7 billion operating loss for the first half of 2020.
The carrier had warned in December of a "significantly higher" loss for the second half of calendar 2020, as passenger travel demand remained in the doldrums.
Noting that 2020 had been "the most challenging 12 months of its more than 70-year history", Healy says the repercussions from the pandemic — and the ensuing travel restrictions — "have been huge".
He says that Cathay's forecast of operating capacity to be about a quarter of pre-pandemic levels still remains "valid", but will ultimately depend on the roll-out of coronavirus vaccines both in Hong Kong and around the world.
"The correlation between the roll-out of vaccination programmes in our key markets and the potential future relaxation of travel restrictions remains highly uncertain and difficult to predict. We will remain agile and will respond according to the situation as it develops," adds Healy.