Thai AirAsia parent company Asia Aviation widened its third-quarter operating loss, amid a sharp revenue plunge from having to suspend operations during Thailand's worst wave of coronavirus infections.
For the three months to 30 September, Asia Aviation was Bt3.72 billion ($113 million) in the red, widening the Bt3.1 billion operating loss it posted during the same period last year.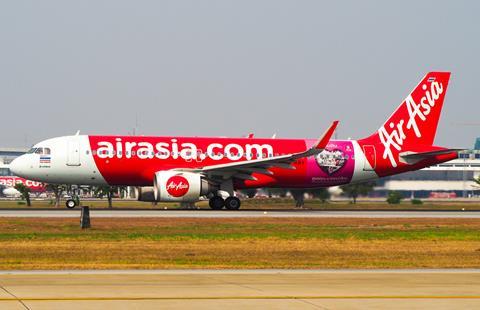 Quarterly revenue plunged 81% year on year to Bt458 million, as passenger numbers nosedived 96% to just under 80,000.
Amid soaring infections caused by the Delta variant of the coronavirus, Bangkok, where the carrier is based, was designated a "strict control" zone, with inter-province travel prohibited. Consequently, Thai AirAsia suspended all operations for most of the quarter, between 12 July and 2 September, as part of national pandemic prevention efforts. Capacity and traffic for the quarter plunged 95% year on year, amid the operational suspension.
The reduced flying led to a drop in costs, though it failed to outpace the rapid decline in revenue. Asia Aviation's expenses for the quarter was around Bt4.2 billion, 24% lower year on year.
On a nine-month basis, Asia Aviation also widened its operating loss — at Bt9.7 billion this year, compared to Bt6.3 billion last year.
Asia Aviation, which is undergoing business reorganisation, disclosed that its liabilities exceeded assets, with negative equity widening year on year.
Despite the dismal financial performance, the company is banking on "positive signals" from the year-end, especially since Thailand has reopened its borders to all vaccinated travellers.
Thai AirAsia also expects to return to pre-pandemic domestic capacity by the first quarter of 2022, says the company.
It adds: "Thai AirAsia forecasts its operational returns will recuperate in the final months of 2021 compared to the previous quarter as both the tourism and aviation businesses have received positive signals."
"In addition, Thai AirAsia will consider international service based on the government's national reopening plan."