Croatia Airlines has chosen the Airbus A220 for its fleet renewal, following years of negotiations with airframers over an order for narrowbody jets.
The commitment will see the Star Alliance carrier become a single-type operator "by 2026", it says on 4 October.
The Pratt & Whitney PW1500G-powered jets will replace Croatia Airlines' current fleet of 12 aircraft, comprising six De Havilland Canada Dash 8s, five Airbus A319s and one A320.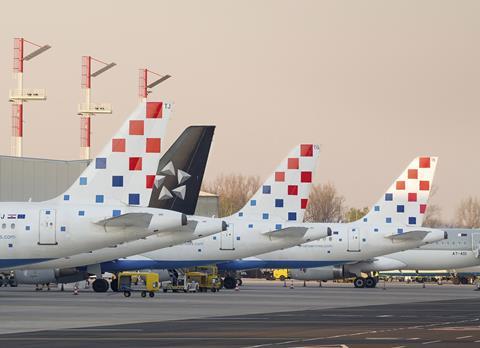 Croatia Airlines and Airbus are yet to disclose details of an aircraft order – including the choice of variant – although a deal would involve either the conversion or cancellation of the carrier's existing commitment for four A320neo aircraft, which was itself a 2015 conversion of a 2008 order for A319s.
The fleet renewal was highlighted as a key part of Croatia Airlines' post-Covid transformation plan, which was announced at the end of 2021 and also features cost-reduction efforts and a network overhaul.
The state-owned operator had spoken to Boeing about the 737 Max and Embraer about E2 jets over the past few years as it considered which airframe would best meet its needs.