Delta Air Lines says it will add 13 new daily nonstop flights from Miami to US destinations as its strategy following its $1.9 billion investment in Latin American carrier LATAM Airlines begins to take shape.
The flights will link Miami international airport to several of Delta's hubs and other core cities including Orlando, Raleigh-Durham, Salt Lake City and Tampa. As a result of this expansion, the Atlanta-based airline will offer 41 daily non-stop flights between 10 US airports and Miami, the airline says on 17 January.
All of the new routes will be flown with Embraer 175 aircraft and begin in May, except for the Miami-Salt Lake City connection, which will be operated on a Boeing 737-800 aircraft and begin on 28 July, the Atlanta-based airline says.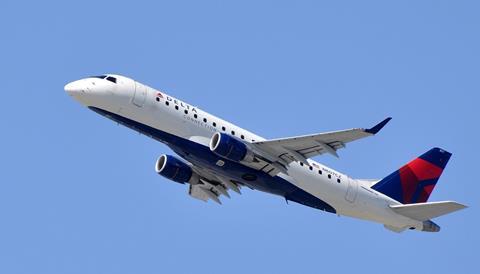 Delta adds that the flights will be timed to maximise connectivity with LATAM flights to Central and South America.
"As our new industry-leading partnership with LATAM develops, this announcement broadens our footprint in South Florida to provide our customers with better connections between the US and South America," says Delta's senior vice-president for network planning Joe Esposito on 17 January.
"Together, Delta and LATAM will create the most comprehensive combined carrier network throughout the Americas, carrying more passengers between North and South America than any other partnership," Delta's statement reads. The "enhanced cooperation" still needs government approval, the airline says.
With the move, Delta is attacking American Airlines where it hurts the Dallas-based competitor most – American's primary gateway to the Latin American market.
According to Cirium fleets data, American currently serves 71 destinations in Latin America from Miami, and has traditionally been considered the leading airline in transportation across the hemisphere.
But last year, following a Chilean court's decision to deny American a proposed joint venture with Santiago-headquartered LATAM, competitor Delta jumped in to invest $1.9 billion for 20% of the Latin American airline company a few months later.
Subsequently, LATAM left American's Oneworld alliance and severed its codeshare ties to the US carrier as of 31 January 2020, leaving American without a major partner in the region.
"When LATAM ran into antitrust problems with the joint business agreement in Chile, Delta smelled blood," says Stephen Trent, director of research for Americas airlines and latin transports at Citigroup. And the collaboration seems to have rapidly paid dividends for both companies.
Earlier this week, chief executive Ed Bastian told analysts on the carrier's quarterly results call that the partnership with LATAM was moving more quickly than he had anticipated.
"As we start to build out the joint venture you are going to see this spool up faster than any of our other JVs. There's really good alignment, focus and growth opportunities for both carriers throughout the Americas," he said on Tuesday. On the same call, Delta president Glen Hauenstein added the partnership is "a game-changer in Latin American" for the airline.
"That was a pretty strong statement," Citigroup's Trent added.
In response to the new alliance, late last year American added new seasonal routes within the US, including direct non-stop service from Jackson, Mississippi and Des Moines, Iowa to its Miami hub. It also added additional flights from Miami to Lima, Santiago and Sao Paolo.
To underscore the Delta-LATAM partnership, LATAM announced on Thursday plans to move its operations at New York's John F Kennedy airport to Delta's Terminal 4 beginning on 1 February, giving passengers connecting between the two airlines a more streamlined and less stressful experience. Currently LATAM is located in Terminal 8.
In addition, Delta and LATAM recently announced plans to launch codeshare sales for select flights operated by certain LATAM affiliates in Colombia, Ecuador and Peru beginning in the first quarter of 2020. These too have yet to receive government approval.